Blood Donations Support Heart Warrior
As community service chairman in 2016 Mat Jacowleff (Northeastern University, 2020) was looking for a way to give back to the community when a "sign" led his chapter to a special relationship with one little boy.
"I had a medical condition that led me to Boston Children's Hospital [BCH]," Jacowleff said. "As I was walking out, a sign at the exit caught my eye. It read, 'BCH is in critical need of blood donations. Give Pints for Half-Pints.' I had always been taught to 'control what you can control,' so I knew that this was an opportunity to provide help and support to children in our community who desperately needed it."
Jacowleff contacted the blood donor center the next day, shared details with his chapter and within a week had inspired 40 people to donate blood. Over time members from other Northeastern fraternities and sororities signed up to donate blood.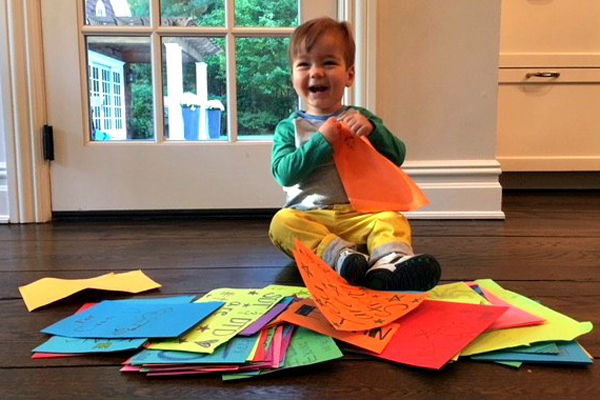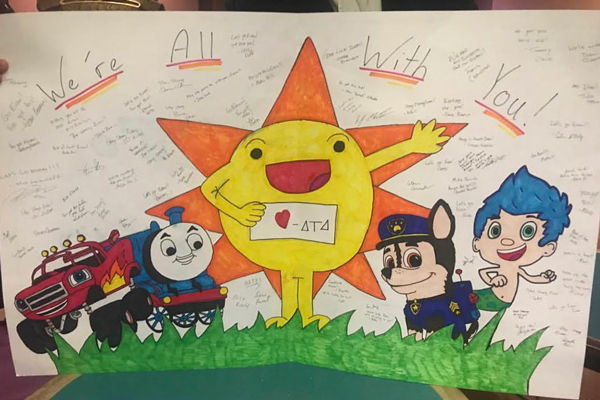 Boston Children's Hospital published an article in their "Pediatric Health Blog" about the success of blood donations from Northeastern University students, then another publication in Jacowleff's hometown of Westport, Conn., wrote an article about Jacowleff and his efforts.
"After those articles came out, parents started to contact me and thank us for everything we had been doing," Jacowleff said. "The majority of messages I received mentioned that they were shocked that a group of college students in a fraternity would spend their semester helping their community in such a major way."
One of the families who reached out to Jacowleff was Evan Schieber's family. "Evan is from my hometown of Westport, Conn., so his mom reached out to me to tell me Evan's story and thank me." Evan's mom, Britt, and his dad, Brett, have three boys (including Evan's twin, James) and one daughter.
Evan was born in 2016 with hypoplastic right heart syndrome (he was born with only one pumping chamber in his heart), and Boston Children's Hospital saved his life when he received his first open heart surgery four and half months after his birth on Sept. 13, 2016. Evan only weighed 13 pounds at the time of the surgery.
"Amazingly, on that day, 20 of our brothers gave blood," Jacowleff said. "Evan's mom told me that we had helped save Evan's life."
Along with a sorority, the Delt chapter at Northeastern University made hundreds of get-well cards for Evan. Evan's mom, Britt, read every card to him and saved the cards in a keepsake box.
"I developed a close relationship to Evan's family," Jacowleff said. "Evan's family started a fundraiser to raise awareness and [funding for] research for hypoplastic right heart syndrome. As college students, we don't have a lot of money to donate. So, I made up 300 'Evan's Heart Fund #HeartWarrior' bracelets and we sold them all over campus. We were able to donate more than $700."
Jacowleff and Delt brothers continue to keep in touch with Evan and his family. "I have gone to Evan's home with brothers to visit with him and drop off bracelets or stuffed animals on several occasions," Jacowleff said. "And sometimes, when I am walking the beach in my hometown—who will I see? Evan. It's always amazing to give him a big high five."
In fall 2018, Jacowleff was a keynote speaker at Boston Children's Hospital Gala to recognize hospital donors. He shared the story of how he encouraged his fellow Delt chapter members to donate blood to BCH and how those donations helped save children's lives including the life of Evan Schieber.
On March 19, 2019, Evan needed his second (of three) open heart surgeries. "I heard that positive energy would help Evan a lot, so we put together a video to get him fired up to fight!" Jacowleff said. "He fought through it again and survived."
Jacowleff and his chapter brothers visited Evan after Evan's second surgery. "We visited him in the hospital and delivered him his favorite character—a Thomas the Train stuffed animal," Jacowleff said. "His eyes lit up."
The Delts at Northeastern University continue to donate blood at BCH. "Brothers from our chapter still give blood all the time," Jacowleff said. "Michael Doulin (2021) and Glen Enneper (2022), the two community service chairmen who followed me have worked so hard to bring BCH's blood mobile to us twice. So many Northeastern students gave blood those two days that they had to start turning people away because of the long wait. I am so proud of Michael and Glen for carrying on such an important tradition."
The brothers keep coming back to the hospital to donate blood because they know they are making a difference. Donating one pint of blood could help up to four children. "We give blood now because we know that it is giving life," Jacowleff said. "We sacrifice a part of our day because we know there are kids in our community who need our help, and we will be there for them when they do…bottomline."
Jacowleff hopes the success of the Northeastern University Delt chapter's blood donation efforts will hopefully inspire other Delt chapters to do the same. "The biggest piece of advice I could give to other chapters' community service chairs is to find the passion of the people in your chapter," Jacowleff said. "Don't plan events to accumulate hours or to fulfill a requirement. If you plan events with genuine meaning, that is when you will make a difference in your community. One of my first weeks [as community service chair], I sent out a form that asked people what they were passionate about helping [with] and planned events around that. If you follow passion, you will make a difference in this world."
By being ready to make a difference in the community, Jacowleff has inspired others to answer the call. "I have learned so much about life through this entire process," Jacowleff said. "If you want to make a difference, go out and do it. There are so many people in your community who could use you right now. If you are in this Fraternity, you are surrounded by so many great men who are ready to answer the call. So be the one who puts the call out there, take a risk to get something done. Because you never know, you may save someone's life."