Beta Upsilon Chapter at the University of Illinois Celebrates 150th Anniversary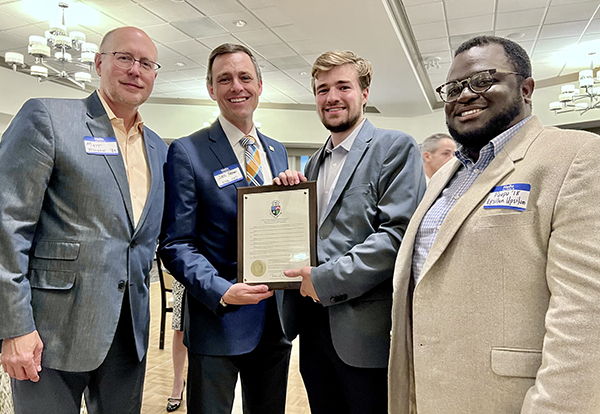 When the Beta Upsilon Chapter was founded in 1872 AT&T was a telegraph company. Thomas Edison wouldn't invent the incandescent light bulb for another seven years. Ulysses S. Grant swept the presidential election and Pyotr (Peter) Illyich Tchaikovsky debuted his second symphony to critical acclaim. AT&T is now a multinational telecommunications company, light bulbs have mostly been replaced by the LED, Grant graces the front of the $50 bill and Tchaikovsky is no longer writing music. Still, the Beta Upsilon Chapter continues to perpetuate its brand of excellence on campus at the University of Illinois. On September 24, 2022, alumni and undergraduates from Beta Upsilon convened in Chicago to toast 150 years of their beloved chapter.
Originally founded on January 5, 1872, as the Upsilon Chapter, the chapter now known as Beta Upsilon has initiated 2,750 men into the brotherhood. That count of 2,750 places it fifth of all time in the Fraternity behind only Texas, Oklahoma, Ohio State and Florida. The men of Beta Upsilon have gone on to become leaders within the Fraternity and beyond. The Beta Upsilon Chapter has received the Court of Honor distinction six times, most recently in 1999, and the Hugh Shields Award for Chapter Excellence five times.
The event began on a beautiful fall evening in Arlington Heights, Ill. at the Rolling Greens County Club. Educational Foundation Chairman and Alumni Achievement Award recipient John Gleeson (Beta Upsilon, 1968) hosted the more than 75 alumni and Delts in attendance. Serving as the emcee was former Northern Division President Greg Kazarian (Beta Upsilon, 1982). Kazarian, or "Kaz" as he is known, led the audience through a brief history of the chapter and described the latest efforts of the undergraduate men. Kaz was the third alumnus from Beta Upsilon to serve on the Arch Chapter joining William McNamee (University of Illinois, 1906) and Leslie Weaver (University of Illinois, 1894), who both served as the Western Division president long before the two divisions split.
Fraternity CEO Jack Kreman (University of Nebraska at Kearney, 2004) provided remarks on behalf of the International Fraternity and Arch Chapter. He called attention to the persistent resilience of the chapter. The original Upsilon Chapter had to operate underground early in its history due to an effort by the university to rid itself of all fraternities. The chapter returned in 1894 as the Beta Upsilon Chapter and has operated ever since. "The Beta Upsilon Chapter is one of only nine other chapters within the Fraternity to persist and celebrate a 150th anniversary. The grit and determination shown through the years give all indications of another 150 years yet to come."