Beta Psi Chapter Installed at Wabash College
On Sunday November 6, 2016 Delta Tau Delta welcomed its newest chapter, Beta Psi, Wabash College in Crawfordsville, Ind. The installation festivities were held at on campus at Wabash College which included the initiation ceremony, a celebratory luncheon and the reopening of the chapter hall at the Delt Shelter.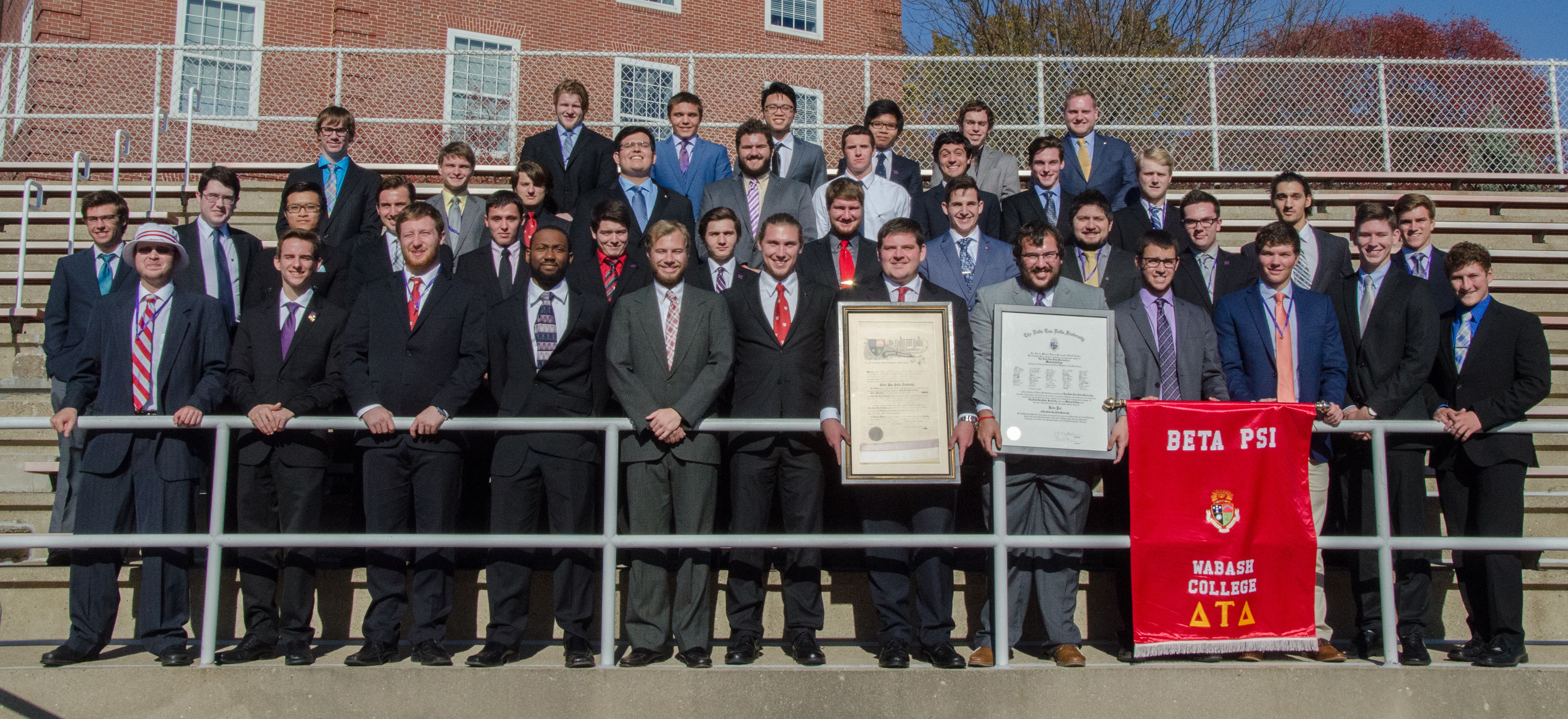 On a bright Sunday morning 73 founders experienced the Rite of Iris and Ritual ceremonies conducted by the Beta Zeta Chapter from Butler University. International President, Jim Garboden (University of Pittsburgh, 1988), presided over the ceremonies and was joined by Northern Division President, Mark Starr (Case Western Reserve, 1995). Also in attendance from the Fraternity was Delta Tau Delta Educational Foundation Chairman Keith Steiner (Allegheny College, 1973), a former Northern Division President himself. Representing the College was President Greg Hess, Dean of Students Michael Raters and Associate Dean of Students Marc Welch (Wabash College, 1999). At the conclusion of the ceremony Nick Prihoda (Wabash College, 1999) was installed as chapter advisor.
Executive Vice President Jim Russell (Purdue University, 1975) provided chapter president Reno Jamison (Wabash, 2017) with the Eversole Badge, a gift given to the president of every new chapter and passed down to each president thereafter. "This is a special day in the life of Delta Tau Delta as we officially return to Wabash," Russell said. "Delts first came to Wabash in 1872 and their contributions have played an important role in its life across the decades. We look forward to the future accomplishments of the new Wabash Delts who join our ranks today."
Mark Starr presented the chapter Guide, Jacob Miller (Wabash College, 2019), with the chapter Bible, Ritual books, and robes. He congratulated the chapter on its accomplishment of chartering and reminded members they will build the future of the chapter. "It was great to get to the point of chartering but November 6, 2016 will be the day they remember as the start of this incarnation of Beta Psi Chapter," Starr said.
The keynote address was given by President Garboden where he emphasized reaching this milestone not as an end, but a beginning. "You are now part of a family and while we expect you to help us uphold the good name of Delta Tau Delta on your campus and community, I also challenge you to take care of each other. When you see a Brother who is struggling, spend time trying to help him," Garboden said. Following his address, he presented Jamison with the chapter charter with all 73 signatures of the refounders the Beta Psi Chapter.
Founded in 1832, Wabash College is an independent, liberal arts college for men with an enrollment of 900 students. Its mission is excellence in teaching and learning within a community built on close and caring relationships among students, faculty, and staff. Wabash offers qualified young men a superior education, fostering, in particular, independent intellectual inquiry, critical thought, and clear written and oral expression. The College educates its students broadly in the traditional curriculum of the liberal arts, while also requiring them to pursue concentrated study in one or more disciplines.