Beta Psi Chapter at Wabash College Celebrates 150th Anniversary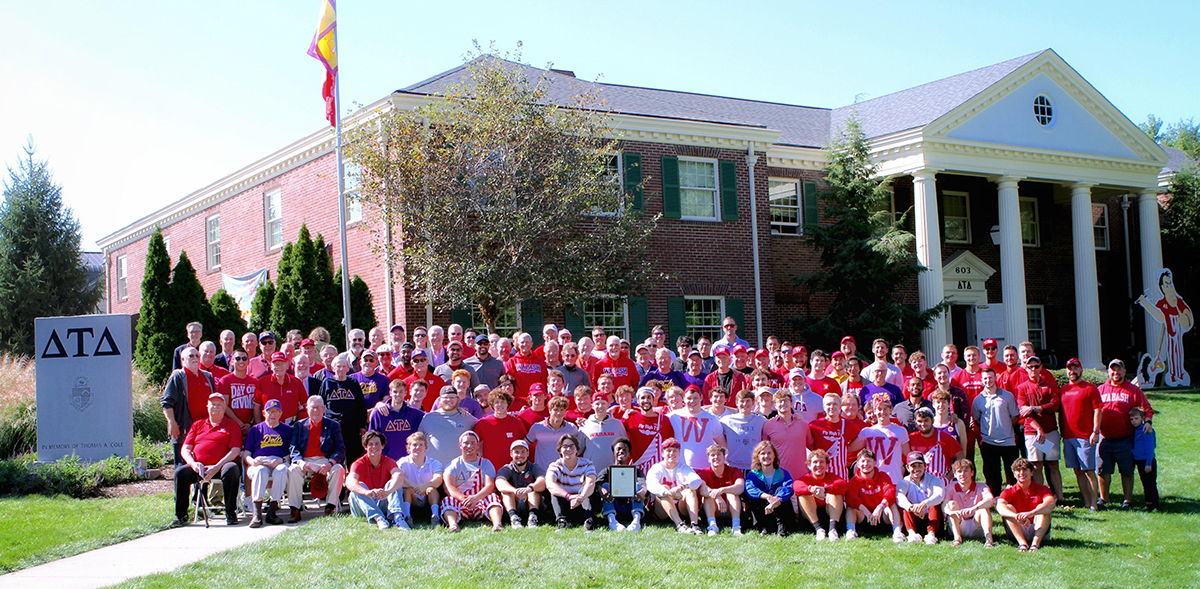 More than 200 members, alumni, parents and guests gathered in Crawfordsville, Ind. for homecoming on Sept. 24 to celebrate the 150th anniversary of Beta Psi Chapter at Wabash College.
Originally chartered as the Mu chapter in 1872, the chapter closed and re-opened as Psi in 1877 and then re-opened and chartered under its current Beta Psi designation in 1894. To date, 1,785 members have been initiated by Beta Psi Chapter.
For the 150th celebration, a morning dedication featured remarks from Chapter President Jordan Reel (Wabash College, 2023), Delt CEO Jack Kreman, Wabash Board of Trustees Chairman Jay Allen, Wabash Delt alumni association board member Ralph Dixon (Wabash College, 1979) and Chapter Advisor Nick Prihoda (Wabash College, 1999). Kreman enlisted Delt members of the campus Sphinx Club to join him for the presentation of the Fraternity's official proclamation, cheering "Rah Rah Delta" in between each stanza of the proclamation.
"While we celebrate today," Prihoda said, "We also look ahead to our future, where our mission is just as critical for tomorrow as it was 150 years ago. May we tackle that mission with as much energy and passion as we have for 150 years. In my mind, there's no place on this campus better than the Delt House to accept this lofty challenge for our future."
Present for the celebration were pledge brothers Stan Matheny (Wabash College, 1956) and Otto "Buzz" Koch (Wabash College, 1956). Both brothers were initiated in 1953 and are preparing to celebrate 70 years of membership.
Following the homecoming football game, everyone reconvened at the Beta Psi Shelter for dinner prepared by Mark Elrod (Wabash College, 1999), live entertainment outdoors and plenty of brotherhood on a perfect fall Indiana night.
Beta Psi Chapter is currently the largest chapter on campus, having been the largest chapter on campus for several decades. Additionally, the chapter and new members consistently rank in the top three on campus in GPA (representing most majors on campus), have numerous members in key campus organization leadership (including current Sphinx Club president and Student Senate vice president) and are notable members of many of Wabash's athletic teams.
The Beta Psi Chapter has been recognized with the Hugh Shields Award for Chapter Excellence three times and has been named to the Court of Honor five times. Six members have been inducted into the Distinguished Service Chapter and two have been recognized with an Alumni Achievement Award.
In addition to having made an impact on the Wabash College experience, Wabash Delts hold a significant place in the Fraternity over the course of its history. In recent years, Bob Charles (Wabash College 1959) served on the Delta Tau Delta Foundation board for 20 years, Garth Eberhart (Wabash College, 1992) served as both a chapter consultant and member of the Central Office staff from 1992 to 2010 and Nick Prihoda served the Central Office as the director of expansion for six years from 1999-2005. Jeremy Vanscoy (Wabash College, 2003) and Tony Quandt (Wabash College, 2004) both served as chapter consultants, with Jeremy Vanscoy also working for the Delta Tau Delta Foundation.
On the Arch Chapter, Brandt Chase (Wabash College, 1896) served as the Northern Division president from 1908 to 1911, Kurt Pantzer (Wabash College, 1913) served as the director of academic affairs from 1939 to 1941 and most recently at the 2022 Karnea in Norfolk, Virginia, Jeremy Vanscoy was elected to the Arch Chapter of the Fraternity.