Beta Epsilon Chapter Installed at Emory University
Delta Tau Delta welcomed its newest chapter, Beta Epsilon at Emory University in Atlanta, Georgia on Saturday, March 18, 2017.
Thirty-two founding fathers underwent the Rite of Iris and Ritual performed by the men of Beta Delta Chapter at the University of Georgia. International President Jim Garboden (University of Pittsburgh, 1988), presided over the ceremonies and was joined by the Southern Division President Tiger Edwards (Southeastern Louisiana University, 1973). Emory University Assistant Dean for Campus Life and Director of Sorority and Fraternity Life Marlon Gibson and Office of Sorority and Fraternity Life Graduate Assistant Lauren Kline also attended.
John Sheesley (Emory University, 1998) was recognized as the chapter advisor. Sheesley thanked the newly initiated men for all their hard work. "We know how hard you have worked over the past two years to get to tonight, and we are grateful to you, not just for bringing our fraternity back, but for doing so with care, with integrity, and with honor," he said.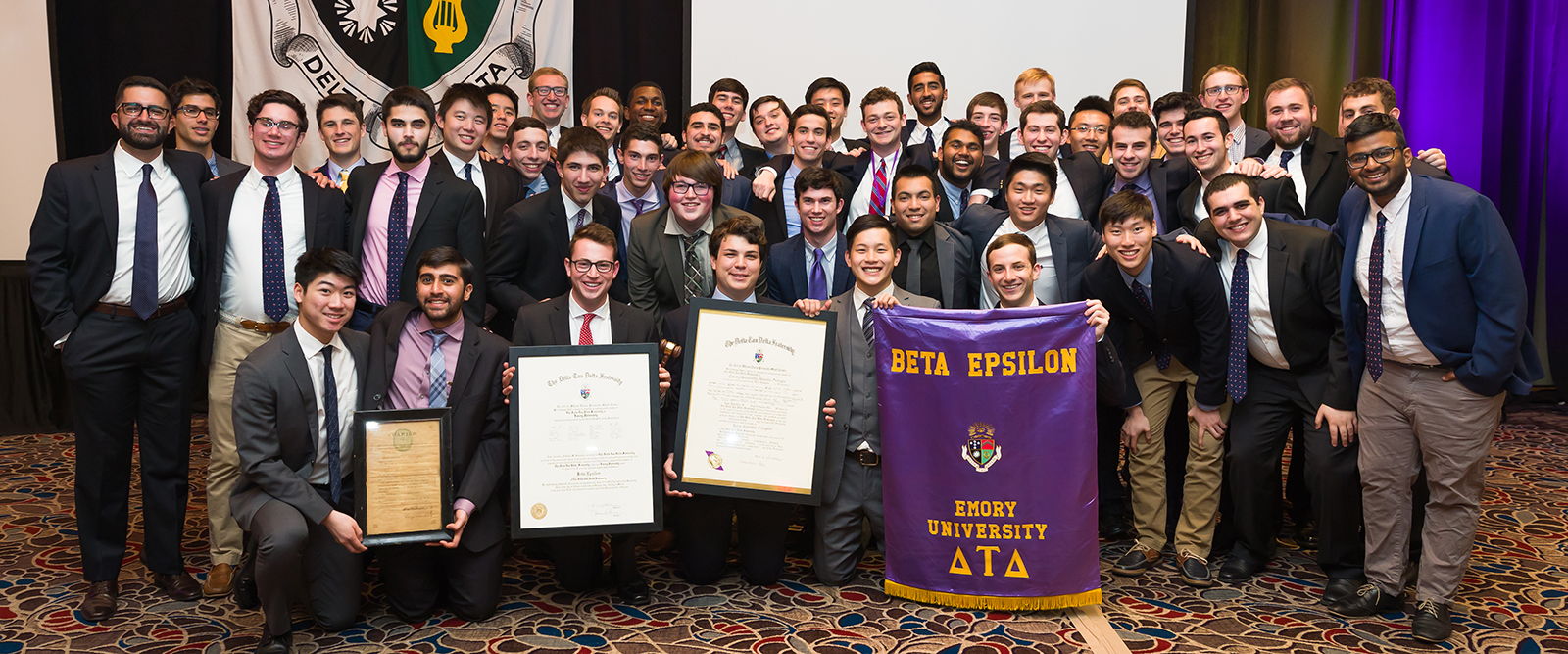 Chief Operating Office Jack Kreman (University of Nebraska-Kearney, 2004) presented the Fraternity's Eversole Badge, a gift given to the president of every new chapter and passed down to each president thereafter, to chapter president Brendon Stern (Emory University, 2018).
The chapter Guide, Sam Bickel-Barlow (Emory University, 2019), was presented Beta Epsilon's historic chapter Bible, Ritual books, and robes by Edwards. Edwards congratulated the men on their accomplishment.
President Garboden delivered the keynote address during the celebratory banquet. Following the address, Stern was handed the chapter charter with all 32 signatures of the refounders of the Beta Epsilon Chapter.
The Beta Epsilon Chapter at Emory was originally chartered on June 13, 1882, just one day after Beta Delta Chapter at the University of Georgia. Both chapters were initially founded by Wilber Colvin (Ohio University, 1880), a member of the Fraternity's committee on expansion.
Emory University is a top-ranked private institution recognized internationally for its outstanding liberal arts colleges, graduate and professional schools and one of the world's leading health care systems. The University is enriched by collaboration among its schools, centers, and partners as well as by the legacy and energy of Atlanta. Emory University's mission is to create, preserve, teach, and apply knowledge in the service of humanity. To fulfill this mission, the University supports full range of scholarship, from undergraduate to advanced graduate and professional instruction, and from basic research to its application in public service.
ABOUT DELTA TAU DELTA FRATERNITY:
Founded in 1858 at Bethany College, in Bethany, W.Va., Delta Tau Delta has 137 chapters and colonies in 39 states and the District of Columbia with a membership of more than 9,000 undergraduates and 120,000 living alumni. The Fraternity posts a GPA of 3.1, making it one of the highest achieving men's fraternities academically.
Delta Tau Delta's mission, "Committed to Lives of Excellence," is what the Fraternity seeks to represent at its host institutions. Delta Tau Delta strives to develop its members' leadership skills, seeks superior academic achievement, promotes community service efforts and helps its members launch successful careers.