Award-Winning, Flourishing Leadership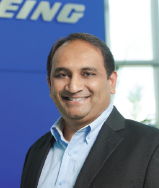 Rajiv Patel (Central Florida, 1999) credits his membership in Delta Tau Delta for the essential quality of being able to work with all types of people and honing his personal leadership style. Now, the University of Central Florida graduate is a senior manager at The Boeing Company and was recently awarded the American Society of Engineers of Indian Origin (ASEI) Engineering Excellence Award for professional achievements.
From 2004 to 2009, Patel gave back to his home chapter by serving as advisor. He learned how important the role is to the growth and health of the chapter. In addition to serving the chapter, he simultaneously primed future alumni to take his position as advisor.
"From day one, I worked to develop at least two other alumni who could take over my role if I couldn't continue in my position," said Patel. "In 2009, I began taking a back seat, as I was more focused on my recent marriage, a new job (that required 75 percent travel) and my master's program."
Currently, Patel is serving The Boeing Company as the senior program manager for the Enterprise Lean+ Office. He has rather swiftly climbed the ranks since graduating college through various leadership roles. He continues to put his collegiate-learned leadership skills to work, as he recently assembled a new team that is responsible for driving affordability on the most technologically advanced plane in the world, the 787 Dreamliner.
"This new team partners subject matter experts in various domains with high potential leaders from across the company to drive affordability projects in North Charleston, S.C.," Patel explained.
Patel initially joined Delta Tau Delta looking for a social life during college; however, he found much more. He began to take on various roles in the chapter and on campus, and honed his leadership style.
"Attending the Leadership Academy reinforced who I was and I have used that training every day of my professional life," said Patel. "I attribute these experiences to being sought out by NASA to run their largest ground verification test at Kennedy Space Center as the Technical Integration Engineer within two years of starting. They saw my skills in bringing together people to work complex problems, despite my age. Professionally, as I moved up in my career, I was able to set myself apart from others because I had time in college to learn my profession as an engineer and practice leadership skills."
Recently, Patel was recognized for his efforts with the ASEI Engineering Excellence Award for professional achievements. While working in the space program he has held positions of increasing responsibility, both technical and leadership, that spanned from test and evaluation to post production/depot support. NASA recognized him on three occasions for his contributions to the Space Program. Patel has also worked closely with Global Corporate Citizenship in designing processes and tools to enable skills-based volunteerism within Boeing. He could fill a novel with all that he has contributed to those he's served throughout his career.
As a successful Delta Tau Delta alumnus, Patel urges collegiate members to enjoy both the social and leadership opportunities that Greek life has to offer.
"Learn to work with and lead people from different backgrounds, various majors, through all kinds of challenges and projects," he advised. "Sometimes, leadership is simply having the courage to follow an existing path and showing others what it means to be the 'first follower.'"
Patel expressed his gratitude and passion for what the Delta Tau Delta founders stood for. He has always been impressed by their desire to right the wrong.
"Our founding was based on values and ideals, and as I think about what leadership looks like for the future, I find myself looking for the values that need to exist in organizations I lead and those I need to influence," Patel said. "This understanding began with truth, courage, faith and power."