Award Winning DJ Gives Back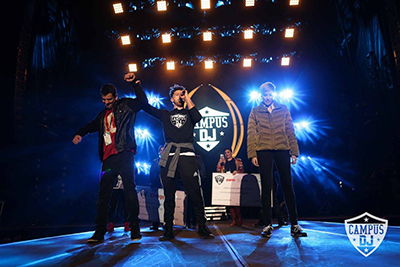 Performing under the name DJ Kurr, Brian Kerr (Florida State University, 2015) was named the number one college disc jockey (DJ) in the nation for 2015. The title came when he won Campus Entertainments Campus DJ competition, but his journey has taken a lot of hustle, determination and selflessness.
Kerr started as DJ in sixth grade after starting a business with his friend, also named Brian, for his Bar Mitzvah community service project.
"We thought, 'Hey, we should start our own DJ business,'" said Kerr. From the little money they had saved up and help from their parents, BnB DJ's was officially in business.
"The whole idea of the project was to give 100 percent of the profits to different charities in the community," Kerr said. "Being two cute kids in sixth grade giving all of our money to charity, we were able to get a lot of publicity."
That media coverage helped Kerr gain momentum and he was able to keep the business going through high school. In his sophomore year of high school, Kerr started to learn more about the art of DJing.
"I began focusing on real, technical DJing," Kerr said on his evolution as a musician. "I got turntables, and I started mixing and scratching and falling in love with the art of the music."
After high school Kerr began playing bigger nightclubs and private parties all while enrolled at FSU. As an entrepreneurship major, he focused on technology, commercialization, strategy formulation, organizational design and venture finance.
Kerr had made a name for himself on the DJ scene when he was scouted by Campus DJ.
"I was just randomly contacted by someone who knew I was a DJ, and they came to Encore nightclub in Tallahassee. They were looking for DJs to compete so I got picked."
Campus Entertainment, the creators of the Campus DJ contest for full-time college students, has been in operation since 2012 with a focus on talent discovery. DJs in the competition were judged based on originality, technicality, stage presence, and song selection.
The competition began last spring, and Kerr won his first battle, allowing him to advance to the second round where he was able to compete at the ESPY Awards in Los Angeles. After winning the second battle, he advanced to the finals during the National College Football Championship at an event called AT&T Playoff Playlist. There, he and the remaining four DJs battled until he was in the final round facing Jill Strange.
"In a DJ battle like this, it's extremely competitive. You have eight minutes to do your best and showcase your skills," Kerr said. "It was a close call, but awesomely enough, I was named the winner."
Kerr's win in the finals gave him an opportunity to open for nationally acclaimed artist Ciara in front of more than 10,000 in attendance.
One of the prizes from Chegg was a $2,500 donation to give to a charity of his choice; Kerr decided to donate the money to the Dylan Schopp Sunshine Foundation.
Dylan Schopp (Florida State University, 2016) was just a year younger than Kerr and part of their chapter's tight-knit brotherhood. Schopp's family members and friends were shocked when he took his own life on Feb. 12, 2015,
To raise awareness for suicide prevention, Schopp's family founded The Dylan Schopp Sunshine Foundation. The foundation strives to spread positivity and hope through community outreach and public awareness of suicide prevention
Kerr said that, aside from wanting his donation to make an impact, it was important to him to bring awareness and support to those who are struggling with depression and suicidal tendencies.
"I wanted to make a big difference," Kerr said. "I have supported a lot of charities through DJing, but to a big charity, $2,500 hundred dollars isn't a lot. It should go somewhere that would make a difference."
Translating the power of his success for good defines this Miami, Fla. native who is now on the scene in the Los Angeles. In addition to working as a DJ, he is now a regional marketing manager with Beatbox Beverages, which was featured on the popular television show, "Shark Tank."
"The Fraternity helped shape who I am and gave me the support I needed to get where I am today. Kerr said. "Take advantage of all your opportunities as an undergraduate and most importantly find your passion."