Aviation Mentor Shares Wisdom
As a nine-year-old in the early 1940s, Joel Godston (Rensselaer Polytechnic Institute, 1955) began dreaming about aviation. By 1955 he had earned his degree in aeronautical engineering from Rensselaer Polytechnic Institute (RPI) and because he was in Air Force ROTC he went on to flight school after graduation.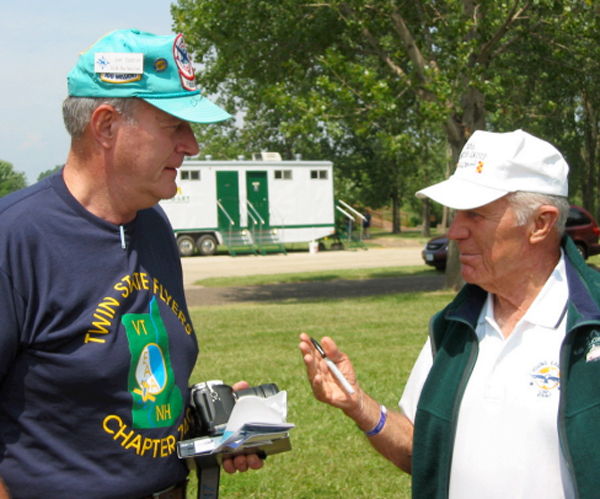 His first flight was in a souped-up Piper Cub on February 2, 1956, and he went on to fly B-47s, T-28s and T-birds in the Air Force. When he started out flying B-47s he met his first aircraft commander who had flown B-17s in WWII. "His parents agreed to lie about his age, so he was barely 17 when he was the aircraft commander on a B-17 during the way," said Godston. "And his tail gunner was 52 years old. Can you imagine taking orders from a wet-behind-the-ears teenager when you're 52-years old?"

Godston went on to fly F-86Hs and F-84s in the Massachusetts Air National Guard while pursuing a 40-year career with Pratt & Whitney, a division of United Technologies, Inc. He and his wife initially retired to New Hampshire, then moved to Seattle to be near family.
For many years he flew his 1976 Cessna 182 as a volunteer as part of EAA's Young Eagles, a program designed to give children between the ages of 8 to 17 an opportunity to experience flight in a general aviation airplane while educating them about aviation. Godston flew nearly 400 young people through the program which he found to be extraordinarily rewarding.
While in New Hampshire Godston organized Airport Awareness Day and Young Eagle Rally at Lebanon Airport for four years and at Dean Memorial Airport for 14 years.
He was recognized by the Experimental Aircraft Association in 2006 with the EAA Leadership Award and in 2010 he earned the Wright Brothers Master Pilot Award from the Federal Aviation Administration.
In 2014 he became a 'Ground Pounder," member of EAA Chapter 26 in Seattle co-chairing the monthly newsletter and doing mentoring and seminars on many aviation related topics with young people and with seniors.
The challenges, excitement, and pilot-in-command time came to a close for Godston when took his last flight in his Cessna 182 (N1408M) in October 2011. He sold his Cessna and gave up flying with 55 years or experience, 1,996 hours flying time and 1,762 take-offs and landings.
His life he has been devoted to sharing his love of flight as a mentor and teacher of aviation related subjects to young and old and that passion remains strong.
"As an aviation nut you always try to help other pilots and other people," said Godston. "Of all the kids that I mentored, I only know what two have done. They both became pilots and are now instructing piloting in Florida. So, that's kind of neat that these two are instructing in the field that I've loved and was blessed to have had a great career."
It's no surprise Godston is devoted to mentoring others as he practiced a lifetime of listening and learning from those who he calls mentors. Whether talking about his parents, the commanding officer from the B-47 or coaches from high school and college, he shares stories of their guiding influence.
Godston recounts details of meetings with venerable pilots, paths crossing with Chuck Yeager and Reeve Lindbergh (Charles Lindbergh's daughter) with the same enthusiasm as tales of his grandchildren competing in ultimate frisbee.
He also celebrates in the achievements of his retirement community neighbors in Horizon House in downtown Seattle. "You name any career, somebody here has done it as a livelihood. The range of age is from the early 60s to over 100. There are three or four who are over 100 years old. Talking to some people who are over 100 years old is absolutely incredible to, one, live that long but then have a memory and be able to talk about," said Godston.
"There's a retired admiral here who flew every airplane the Navy had. He was the commander of the Pacific fleet. He's 94-years old and he looks maybe in his 70s. He's an incredible person. There are just so many people like that and we need to take advantage of what they have and pay attention to the things they've done. They won't brag, but they have lots of great things to share," said Godston.