Arch Chapter Conducts Business at Winter Meeting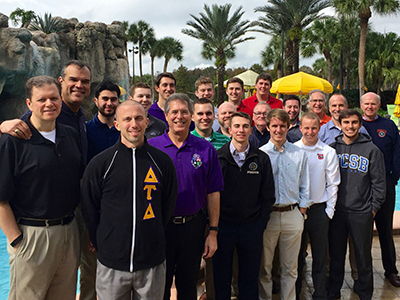 Meeting Jan. 8-9 at the Hyatt Grand Cypress, site of the 2016 Orlando Karnea, the Arch Chapter of Delta Tau Delta enacted a policy on nondiscrimination, committed to a plan to better support frontline volunteers and accepted a chartering petition to what will soon be the Kappa Epsilon Chapter at The College of New Jersey.
Passage of the nondiscrimination policy came following study of the current and projected demographics on college campuses by the Arch Chapter. At the recommendation of the Fraternity's Corporate Governance Committee, a policy was created to further define the language of the Constitution regarding eligibility for membership, which states: "Eligibility for membership in the Fraternity shall be limited to men of superior character and shall not be affected or determined in any manner by inappropriate or illegal discrimination."

The new policy states, "Delta Tau Delta International Fraternity does not discriminate on the basis of race, color, religion, national origin, ethnicity, sexual orientation or gender identity. Delta Tau Delta is open to all men of superior character including transgender males."
International President Jody Danneman (University of Georgia, 1988) views this action as a strong commitment to a diverse Delt membership.
"As the American college campus continues to diversify, Delta Tau Delta seeks to be welcoming to all male students who are of superior intellect and character," Danneman said. "This is simply further amplification of what has been stated in our Constitution for a number of years."
Enactment of a Volunteer Services Improvement Plan came after several months of research and analysis aimed at better support for the Fraternity's frontline volunteers. Its key points are based on recommendations made by Tobi Johnson and Associates, a consulting firm with significant experience in non-profit organizations. The plan calls for a three-year rollout beginning immediately. In related action, the Arch Chapter approved new job descriptions for division vice presidents, chapter advisors and volunteers serving as conduct investigators for alumni supervisory committees.
The College of New Jersey Crescent Colony was formed in fall 2014 and includes 91 men with an aggregate grade point average of 3.06. The chartering ceremony is tentatively scheduled for March 5 at the campus in Ewing, N.J. The new group will join Rho at Stevens Institute and Kappa Gamma at Monmouth University as Delt chapters in New Jersey.
In other business, the Arch Chapter:
Conducted its annual review of the Member Responsibility Guidelines and approved one minor wording change in the section related to the Level I enforcement criteria. It reads (new wording in italics):

"Inappropriate chapter programming including events with militant, sexually suggestive, or controversial themes, sexually explicit or suggestive performances, offensive T-shirts or other forms of apparel, and acts of buffoonery."
Determined dues for undergraduate members will remain the same in 2016-17 as in 2015-16. Those are: $85 for new members at the time of pledging, $130 for annual dues and $305 for the initiation fee. The latter fee also includes first-year dues.

Suspended the charter of the Gamma Alpha Chapter at the University of Chicago.

Conducted the annual review of the Fraternity's campus expansion list and more specifically, the Fast Track Expansion List for those campuses most targeted for colonization efforts.

The Fraternity Board of Directors, representatives of the accounting firm of BKD and Audit Committee Chairman Charlie Johnson (University of Southern Mississippi, 1993) reviewed via conference call the Fraternity's annual required Form 990 filing for FYE 7/31/15 to the Internal Revenue Service. BKD reported no significant changes from the previous filing for FYE 7/31/14. Chairman Johnson also disclosed the annual audit conducted by BKD resulted in a clean report.

Received a report from Ken Kies (Ohio University, 1974), chairman of the Delta Tau Delta Educational Foundation, on the status of the Fisher-Nichols Memorial Headquarters which houses the Fraternity's business operations in Fishers, Ind.

Approved the following recommendations from the Corporate Governance Committee chaired by Rosario Palmieri (American University, 1999):


The creation of an ad hoc committee for member discipline review.
An updated whistleblower policy to bring Delta Tau Delta into compliance with new requirements of New York state law. Delta Tau Delta Fraternity was incorporated in New York and continues to be subject to its corporate law requirements.

Reviewed a report from the Alumni Achievement Award Committee chaired by Carl Brantley (Georgia Southern University, 1975) and approved additional alumni to be added to the list who will be invited to receive the award.

Reviewed the status of all active alumni supervisory committees (ASCs) and voted to:


Continue active ASCs until the next Arch Chapter review during its August 2016 meeting at Boston University, Case Western Reserve University, Hillsdale College, Stevens Institute, Tulane University, University of Kansas and University of Oregon.
Dissolve immediately the active ASCs at the University of Pittsburgh, Sam Houston State University, Texas A&M University and the University of Washington.
Appoint an ASC at Texas State University.