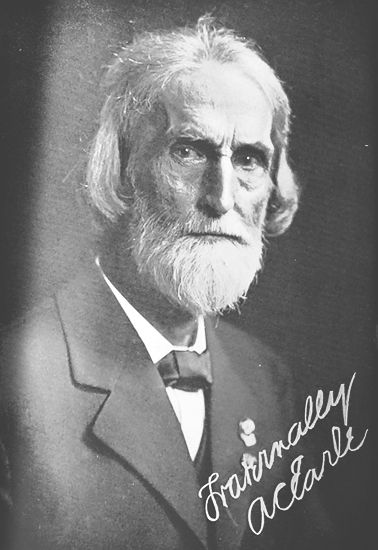 Ever the genteel Southern gentlemen, a humble Alexander Earle would likely never define himself as an explorer. Delta Tau Delta is blessed by having founding fathers with uncanny humility. In fact, most Fraternity leaders believed him to be dead because they had lost contact. By chance, he was discovered in the early 1900s as an elderly man who was still very much alive as a resident of a Confederate Veterans home in Austin, Texas. He died after a brief illness in December 1916. Read The Rainbow coverage following his death here.
Those who knew him, however, understood Earle was very much an adventurer. Throughout his life following graduation, Earle consistently answered the call to his family, country and Fraternity. The following material is excerpted from the January 1917 issue of the Rainbow (Volume 40, Issue 2).
Brother Earle led and eventful and wandering life since the close of the Civil War – the last four years within the quiet shelter of the Confederate Veterans' Home. Here the Gamma Iota actives were able to show him many little attentions, entertain him frequently at the Chapter House and brighten his declining years with warm rays of brotherhood from the Fraternity that he helped to bring into existence at old Bethany, fifty-eight years ago.
[Earle] espoused the cause of the South in the war between the States, and joined the Second South Carolina Volunteers. He served in North Virginia one year, after which he organized a Cavalry Company and fought as Captain until the close of the war.
At the close of the war, having lost all, [Earle and his family] fitted up a wagon and team and came to Arkansas overland route. After two months of hardships, he arrived near Camden, Ouachita County and located for several years raising six children with his wife, Henrietta.
Fellow founder Jacob S. Lowe credited Earle with the vision of beginning chapters of Delta Tau Delta beyond the walls of Bethany College.
"A. C. Earle was one of the original group of students that instituted the Delta Tau Delta Fraternity, at Bethany College…I do recall. However, he favored the policy of establishing chapters in other colleges. It is generally accepted by the older members of Gamma Chapter that Earle was their installing officer. The founding of Gamma seems providential for by the faithfulness and loyalty of this chapter the Fraternity survived the shock of war."
In some of the final letters authored by this remarkable man, Earle himself recognized the significance of his advocacy for expansion. Indeed, his desire to push beyond the friendly confines of Bethany College are probably his most enduring legacy.
"[When] the war clouds began to appear most of the southern boys went home – and I am compelled to say that to those who remained and to the chapter at Liberty is due to the honor of preserving the Fraternity and nursing it back to life. But the principle, on which it was founded appeals with ever potent power to the student life."