An Alumnus' Passion is Rewarded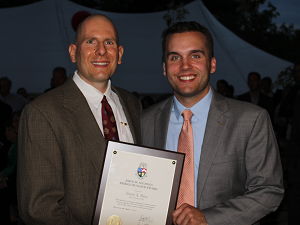 Passion. If Scott Rice (Cornell University, 1990) chooses to do something, he does it with passion. In addition to his duties as House Corporation President, Rice is a nationally ranked triathlete, businessman and sports enthusiast. His passion for Delta Tau Delta started early. As an undergraduate Rice served as house manager and president. Following graduation, he was tapped for service on the house corporation.
"I was enthusiastic from the beginning. I just wanted to help," said Rice. "The other alumni had a goal for the shelter and I wanted jump in and take some ownership. For me, it worked due to the tremendous mentorship I received from those who preceded me in office."
Rice wasn't the Fraternity's typical volunteer. By his own admission he has not lived closer than six hours from Cornell's campus in Ithaca, NY. He spent much of his time as a house corporation officer presiding over the shelter in New York from California. The distance, though, was never an excuse.
"Modern technology makes things much easier. When asked, almost anyone would prefer to telecommute from home professionally. Technology makes it possible for someone to "telecommute" for his volunteer role too," said Rice.
Rice understands the competing pressure for time. As a world-class triathlete his days often begin by four in the morning with workouts. Despite all the demands on his time, Rice is steadfast in his commitment to the Fraternity. For him, it is about priorities.
"You have to make an appointment with yourself. A volunteer should block off time in his schedule to serve. You have to make the time important. If you do it right, you can leverage the resources at your disposal," said Rice.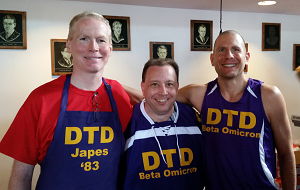 Such discipline is a hallmark of effective advisors. For Rice, his service was more than effective, it was exemplary. His two terms as house corporation president covering more than 15 years in office have left an indelible mark on Beta Omicron and the men who have occupied the shelter at 104 Mary Ann Wood Drive. His commitment made him an obvious selection for the Fraternity's John W. Nichols Bridgebuilder Award. When presented the award, Rice commented on the "true" recipient of the award.
"I might be up here holding the award, but this is for the Beta Omicron Chapter and all the men who have been impacted by our work. This belongs to all of us," said Rice.
The award named for former International President John W. Nichols (University of Oklahoma 1936) is presented to alumni who have rendered at least three years of outstanding service to the establishment, development or enhancement of a housing corporation. Any member in good standing may recommend a house corporation volunteer for the award by recommendation to the awards committee.
When asked about his service to the chapter and the Fraternity, Rice remarked the work is about recognition or awards, it is about the sense of fellowship he gains by volunteering. It is about brotherhood.
"I was able to get a sense of community, a sense of connecting to my brothers. It was something I saw as an important part of my life. We were able to work with our brothers to do something significant and impact the lives of others," Rice said.