An Air Force Base Commander's Flight Path
Todd Canterbury (Arizona State University, 1992) not only followed in his father's footsteps, he practically mirrored them.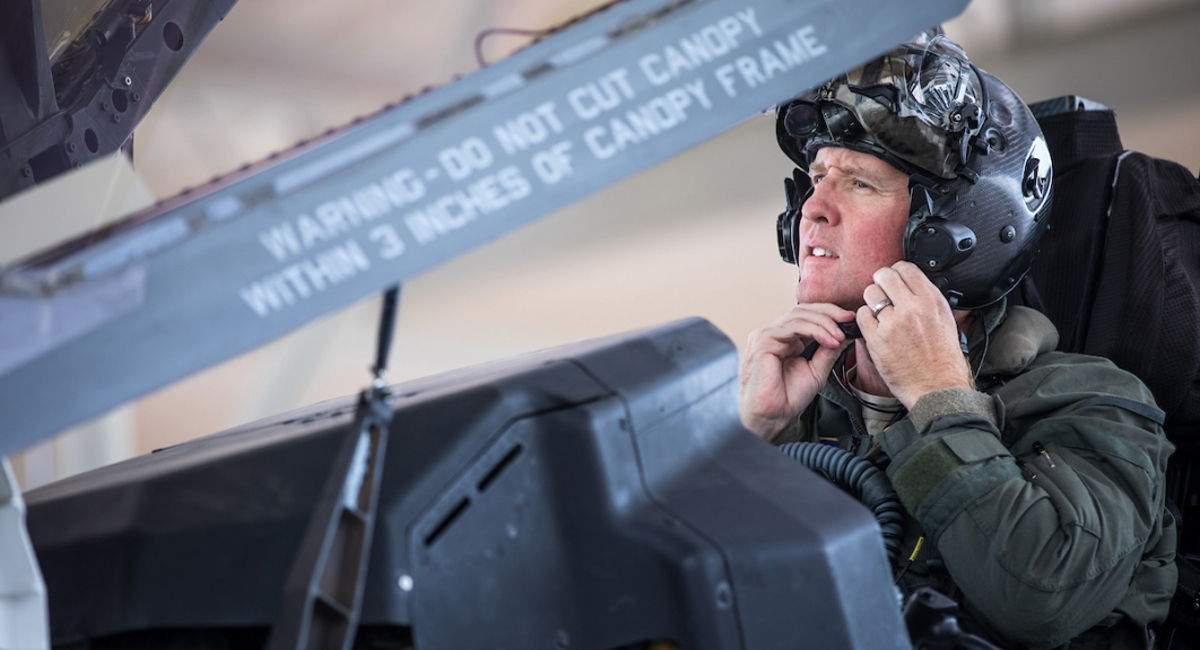 Both men chose careers in the Air Force. Both became fighter pilots. And in June 2018, Canterbury became commander of the 56th Fighter Wing at Luke Air Force Base west of Phoenix — a position previously held by his father, Maj. Gen. Henry Canterbury, from 1982 to 1984 — the first and only father-son combination to hold base commanding positions at Luke.
Canterbury is eternally thankful to his father for the introduction to Arizona and to Arizona State University, his alma mater.
"I jokingly say I never made it out of the A's when searching for a college," said Canterbury, who is a brigadier general and in charge of training the largest fighter wing in the Air Force, whose mission is to train fighter pilots and combat-ready airmen. "I looked at the Air Force Academy, Auburn and ASU. I chose ASU because they had what I wanted to study."
What Canterbury wanted was a degree in aeronautical engineering, but he said he received so much more. He forged lasting friendships with other students, got addicted to the weather, cheered on the football team, gorged on Mexican food at the Dash Inn and enjoyed leisurely strolls down Palm Walk.
"I'm walking down Palm Walk and thought, why isn't every university like this?" Canterbury said.
What Canterbury liked best about ASU were the leadership skills he developed as a result of his involvement in ROTC and fraternity life.
"We did a lot of philanthropic events in the Greek system, and I'd get 70 guys to get up at 6 a.m. to clean a park," said Canterbury, who was a member of Delta Tau Delta. "I learned about motivating and creating cohesive teams through my Greek experience."
"Todd is the type of person that people are naturally drawn to because he's happy, positive, charismatic and a people person. He was always the center of the group," said John Moran, who was in ROTC with Canterbury and is currently a pilot for Delta Airlines. "His success doesn't come as a surprise to me. He's excelled in everything he's done."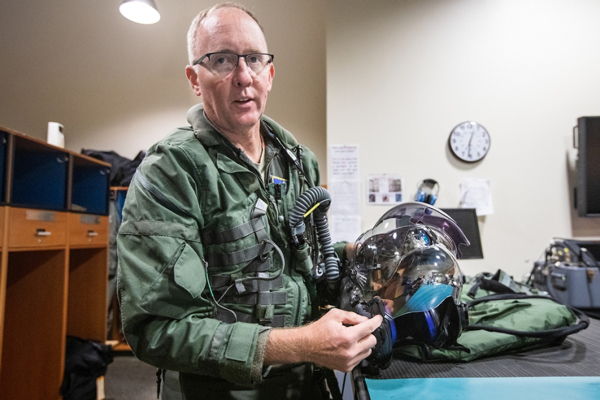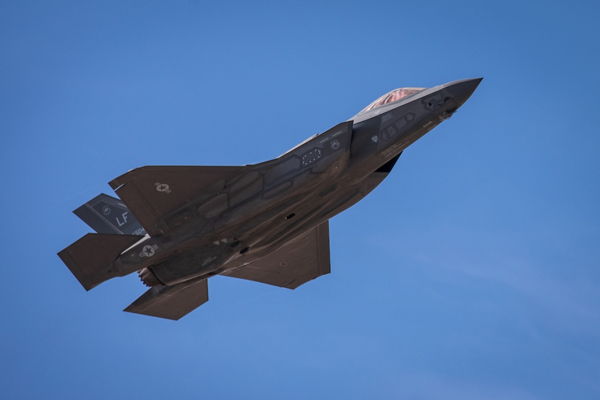 Military upbringing
What was not Greek to Canterbury was the Air Force life. He was literally born into it.
"My earliest memory of my father is bringing home an F-4 Phantom II all the way back from Vietnam," Canterbury said. "It was just a powerful experience. So I knew that I wanted to be around airplanes."
Planes were one of the few constants in his travels as his father was stationed around the world, including Germany, Great Britain, California, North Carolina, Texas, Florida and Arizona — the first time in 1982.
Canterbury arrived here as a sixth grader at Luke Elementary School in Glendale, Arizona. It was a different time and place. The Valley wasn't the bustling major metropolitan city it is today, and Luke was an isolated air base in a predominantly agricultural area. Phoenix lacked a freeway system, so driving to other municipalities was a chore.
"In the West Valley you had to drive through miles and miles of either farm field or land that was dead," Canterbury recalled. "When I played Little League baseball, he had to drive 25 minutes to get to the first McDonald's because that's what every kid does after every game."
Two years later, the family moved on to the next tour of duty.
Canterbury never complained about the moves or, for that matter, worried about following in his father's footsteps.
"Todd showed an interest in flying at a young age and saw a lot of Air Force activity growing up, but me and his mother always encouraged him to do what he wanted to do," said Henry Canterbury, who lives in Litchfield Park and still flies in his 70s. "It wasn't that he was trying to follow me in my career, because he was dedicated to becoming a fighter pilot all of own doing."
Canterbury entered the Air Force after graduating from ASU in 1992 with a Bachelor of Science in aeronautical engineering technology. His ascension in the service was as quick and steep as one of his takeoffs. Trained as a fighter pilot on the F-15 Strike Eagle and MC-12 Liberty aircraft, Canterbury logged approximately 4,200 hours of flight time, with 650 of those coming in combat, including in operations Northern Watch and Enduring Freedom.
He has also served as a weapons school instructor, Thunderbird demonstration pilot, fighter squadron commander and wing commander. But he said there's a special connection between pilots and their machinery.
"The connection between a fighter pilot and their aircraft is a truly unique one not experienced in a lot of other flying careers," Canterbury said. "Flying thousands of feet high, with $100 million of sophisticated technology wrapped around you, it's hard not to feel one with the aircraft."
Back to the Valley of the Sun
His most recent assignment before coming back to Arizona was as the director of the F-35 Integration Office in the Pentagon.
Canterbury's current assignment as Luke's "Wing King" is his most important one yet, said retired Army Lt. Gen. Benjamin C. Freakley, former commanding general, now a senior adviser to both ASU President Michael Crow and the McCain Institute for International Leadership.
"I think it's so exceptional that we have a Sun Devil commander at Luke Air Force Base who's responsible for the most advanced technology in the world to be partnered with the most innovative university in the nation," Freakley said. "Together we can help provide more opportunities for research, for students, for Air Force members to be as ready as they can be for the workforce. We're very thankful for his service and his leadership."
As part of Air Education and Training Command and home to 28 squadrons with both F-16 Fighting Falcons and F-35A Lightning II aircraft, Luke is the largest fighter wing in the Air Force and graduates more than 90 F-35 pilots, 150 F-16 pilots and 300 air control professionals annually. Canterbury's other duties include overseeing Gila Bend Auxiliary Field and acting as steward of the Barry M. Goldwater Range, a military training range spanning roughly 1.7 million acres of the Sonoran Desert.
Canterbury's father said his son is an exceptional leader who oversees approximately 5,600 people as commander.
"He is a true leader because he's out front and not afraid to show people the way and set an example," said Henry Canterbury. "It's a big job, but when you surround yourself with people who are capable, the job becomes quite rewarding. My son happens to be, in my opinion, a better executive leader than I was because he delegates authority and responsibilities much better than I did. He just has a knack for it."
Todd Canterbury said the job comes with some perks that he's now able to share with his two daughters, Kaitlyn and Haley.
"I'm sharing the same experiences with them that I had as a child," Canterbury said. "I'm bringing them in to sit in the cockpit of an F-35, and hopefully it's inspiring to them. What's so neat is how it's all come full circle."
Now at the peak of his Air Force career, Canterbury is reflective—and thankful—for his success. He said he ascended because he was a good airman.
"I don't ask questions. I say 'When, where and let's go,'" Canterbury said. "The Air Force prepares you to do anything that our nation needs. We are taught integrity first, service before self and excellence in all we do."
Shared with permission from Arizona State University