Alumni Spotlight | Ryan Bond, Ohio University
History is important to Ryan Bond (Ohio University, 1995). As a brother of the Beta Chapter of Delta Tau Delta, he looks back over more than 100 years of history and sees a legacy of men who gave back to their chapter and their community. Bond now works to model that example in his own life.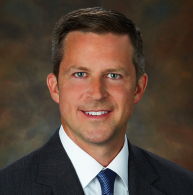 Originally from Parkersburg, W. Va., it wasn't far to get to Ohio University in Athens. With an older sister who had attended before him, Bond was somewhat familiar with the campus before arriving. However, it's fair to say he paved his own path and future through his involvement.
While at Ohio, Bond served in several leadership positions within the Fraternity, including recruitment chairman. Bond was also a two-time recipient of the Robert E. Kraft Scholarship. Since graduating, he's served on the Beta Chapter House Corporation, and has also supported the Delta Tau Delta Educational Foundation financially as a member of the Order of the C–.

Bond now lives in Frisco, Texas, but the distance from Athens hasn't put a damper on his dedication to the Beta Chapter. He is inspired by the Beta chapter's history which dates to it's installation at Ohio University more than 150 years ago. Several years ago the Beta House Corporation broke ground on a major renovation of the Beta Shelter and Bond was a part of the major fundraising campaign that spurred the project forward.
Bond continues to be involved in the Fraternity to give back some of what he received, and he encourages other Delt men to do the same. To the men that are now graduating he encourages them to "continue to be involved with their time and experience" and eventually their treasure, too. The experiences and friendships are what make Delta Tau Delta who they are and is the main reason why Bond is still involved today.
Bond says his motivation to serve can best be summed up in this quote from Warren Buffett:
"Someone's sitting in the shade today because someone planted a tree a long time ago."
Bond recognizes the gifts he's been given thanks to the generosity of other men in the Fraternity. His life has been changed through the generosity of men he will never know or meet. He hopes to leave the same legacy for the next generation of Delta Tau Delta.
Ryan Bond has been greatly influenced by the legacy left to him. He's now devoted to paying it forward. When you support the Delt Foundation, you are "planting a tree" that future members will be able to enjoy. What legacy will you leave, and how will it change a life for the better?