Altruism Leads to Pioneer Award
He's one of the most involved students on campus, so it's no surprise students and faculty nominated Anthony Smith (Sacred Heart University, 2020) for a prestigious award last spring. In April he accepted the Sophomore Pioneer Award at the Campus Life Leadership Awards Ceremony. The award recognizes one student in each class who contributes to the enhancement of the Sacred Heart community making a positive impact as a leader, something Smith does in a completely altruistic manner.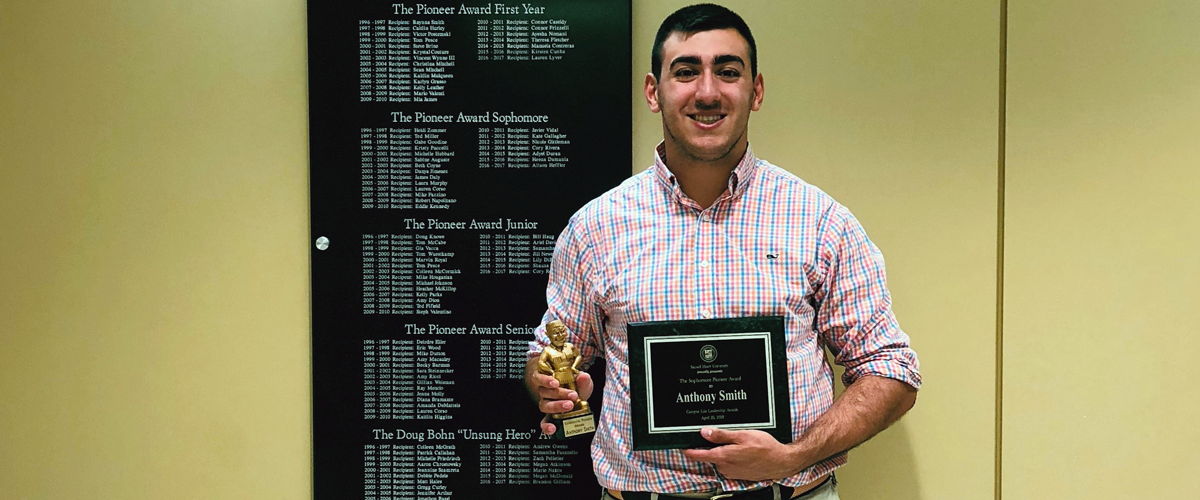 "I didn't get involved to be able to write my activities on a piece of paper," said Smith. "I do it because I love each organization I am involved with. If I can leave just one part of Sacred Heart better than it was before by the time my four years are up, then I did something right as an undergrad."
"Anthony is involved in so many different organizations on campus, and is dedicated to each of them," said Sara Helfrich, assistant director of student activities at Sacred Heart. "His peers admire him and respect him, and his advisors love working with him. He was selected for the Sophomore Pioneer Award because he truly embodies the Pioneer spirit with his passion, enthusiasm, and overall positive attitude toward everything he works on. He was incredibly deserving of the Sophomore Pioneer Award. His enthusiasm for Sacred Heart University and the organizations he is involved with on campus is absolutely unmatched."
Through the Fraternity, Smith's involvement spread to the Sacred Heart's local community. "Our chapter took part in the 6th annual 'Walk a Mile in Her Shoes,' a men's march against violence in Fairfield, Connecticut," said Smith. "This community awareness event was created six years ago for people, especially men and boys, to take the first step to end violence against women and girls. Knowing that all of my brothers share this same desire to end sexual assault and domestic violence, along with sharing other core values, ensures to me that I am surrounded by a great group of people within an even greater organization."
Smith's service touches many areas of campus life. He serves as president of Sacred Heart's Class of 2020 and he is vice president of programming on the Inter-Fraternity Council (IFC) Executive Board, a role with the responsibility of planning Sacred Heart's Greek Week. As a Sacred Heart Student Ambassador, Smith facilitates tours for prospective students and their families. He is part of the Peer Ministry Team, a group of students called to serve in leadership roles in different faith-based aspects of the university community such as leading retreats or liturgical ministry, and he is part of the Campus Ministry Team, planning and preparing weekend liturgies. As a Welch Mentor in Sacred Heart's Jack Welch College of Business, he also mentors a group of freshmen.
Last year Smith was on the executive board for the Student Events Team, a branch of Student Government, as entertainment chairman. Along with planning weekday and weekend programs for undergraduate students this gave him the opportunity to interview one of the co-stars of Nickelodeon's Drake and Josh, Josh Peck, in what he calls an experience of a lifetime. Helfrich said Smith went above and beyond to coordinate events and worked ardently on his idea for the Q&A featuring Josh Peck. The event sold out in hours and students were thrilled.
Smith also serves on Iota Tau Chapter's executive board as social chair, though he admits he didn't know the difference between a fraternity and a sorority when he started college and had no intention of joining. Then he watched as his friends joined Delta Tau Delta. "They couldn't stop talking about how much they loved the organization and everyone in it," said Smith. "My friends recruited me and convinced me to join. I could tell how much they loved Delt, so I figured I would join, too. Every brother I met was not only genuine, but also fun to be around. The decision to eventually join Delta Tau Delta was one of the best decisions that I have ever made."
With an academic record complementing his leadership resume, Smith is pursuing a double major in management and finance and double minor in Spanish and honors. He has achieved Kershner Scholar status every semester since he joined the Fraternity. Delta Tau Delta's Kershner Scholar Award was created in the 1970s to encourage consistent academic achievement and improvement. It is named after Fred Kershner (Beta Zeta, Butler University, 1937), a past international president of Delta Tau Delta and the longest serving director of academic affairs in the Fraternity's history. Kershner Scholars must achieve 3.5 GPA or better on a 4.0 scale, Dean's List or campus equivalent.
After graduation Smith hopes to get involved with the financial side of commercial real estate. For now, the East Hanover, New Jersey native is fully invested in collegiate leadership roles. "My college experience at Sacred Heart would not be what it has been if it were not for Delta Tau Delta and my overall fraternity experience. Between the people I have met, the connections I have made, and so much more, joining Delt has changed my life."