Allegheny Delts Come together to Renovate Shelter
The renovation of the Alpha Chapter of Delta Tau Delta at Allegheny College in Meadville, Pa., has been a synergy among collegiate members, alumni from various locations, supporting organizations and the College. In 2013, the Alpha Chapter not only celebrated its sesquicentennial (150th) anniversary, but it also began a campaign to restore the historic, architectural and cultural aspects of the Fraternity's residence.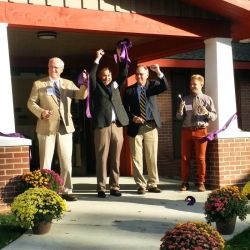 The Delta Tau Delta shelter is unique at Allegheny College, in that the College owns it. As the campus housing became more updated and modern, the Alpha Chapter began to fall behind in its appeal to prospective members.
"The Delts of the 21st century felt we needed to do this. It was Joe Knupp's (Allegheny 2005) initial idea," said Campaign Chairman Keith Steiner (Allegheny 1973).
When speaking with Steiner about the project, it's clear this has not been a one-man job. Several parties have been involved to make this a success. The Fraternity worked with Allegheny College, which was very supportive throughout the process; however, the Alpha Chapter was charged with raising the funds for the project if they wanted to see it carried out in a timely matter. The collegiate members and alumni felt the project required urgent dedication and commitment in order to continue to attract quality members.
Pennington & Company, a leader in Greek fundraising, was brought on board to assist the completion of the campaign. Steiner visited alumni with Pennington representatives, nation-wide, to raise funds.
"We wanted the Alpha Chapter to be the leaders, rather than followers," said Pennington & Company Vice President Tony Quandt (Wabash 2004), in reference to the Allegheny campaign. "We wanted to get it done."
The Alpha Chapter successfully raised more than a million dollars in funds for the project, and the shelter was dedicated in September 2015. Even more special is the incredible amount of support from young alumni for this project.
"I am very pleased and proud with what these young guys are doing," said Steiner. "They continue to see the value in their education and the Fraternity."
Among the young leaders are my men under 40 years old. The following men have pledged more than $10,000 toward the renovation project: Joseph Knupp, Daniel Connolly (Allegheny 2007), Matt Adams (Allegheny 2004), Kurtis Foriska (Allegheny 2001), Matt Kozlowski (Allegheny 2003) and Rob Utter (Allegheny 2006).
As Quandt explained, renovating this dated facility has been so important to alumni because they have such a passion for their own experience in the Alpha Chapter. The new members from young alumni have proved their success after graduation and willingness to commit to giving a high percentage of their income to the campaign.
The men of Delta Tau Delta at Allegheny College are now living in their freshly renovated residence, which has a new wing and updated social space. It is also handicap accessible. The project finished in record time and under budget.
"The Alpha Chapter had a powerful influence on my life," said Steiner. "Now, their housing can continue to be competitive for the best members, and also help admission rates. It's truly a win for everybody – chapter, Fraternity and college."