Advisor Inspires Brothers
Anyone who has met Bob Ferguson (University of Cincinnati, 1971) knows he's a talker. His ability to listen, though, is the key to his more than 40 years of service as a beloved advisor for Epsilon Upsilon Chapter at Marietta College.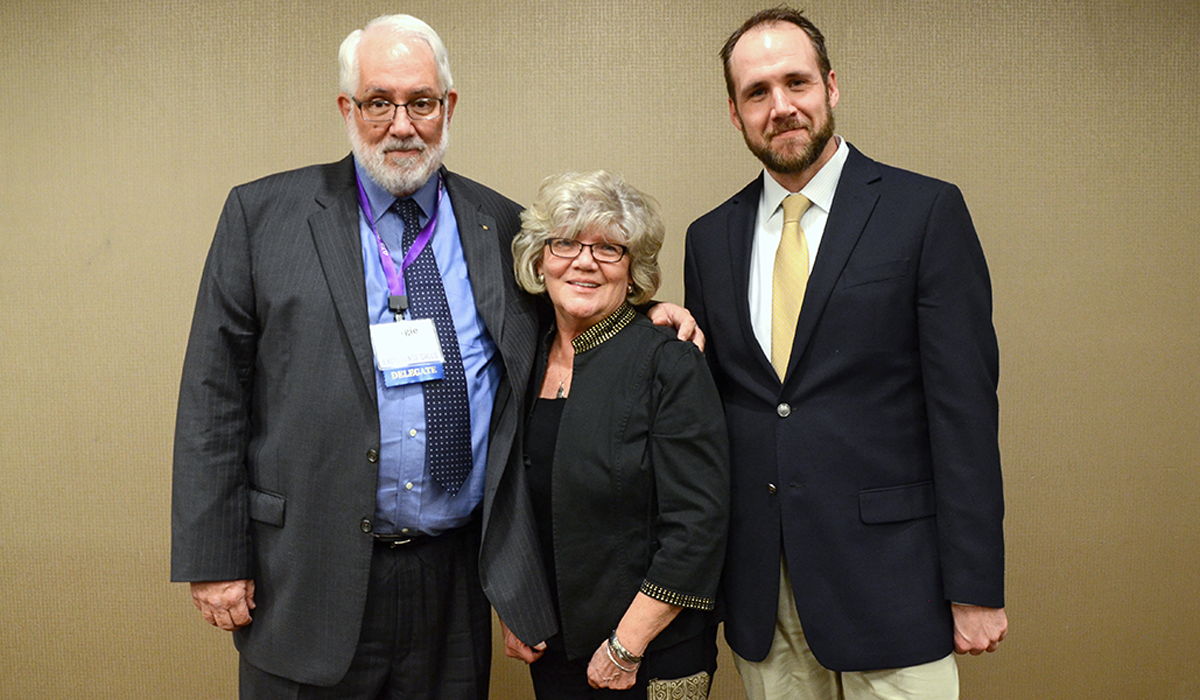 In 1975 Ferguson was a newlywed working as a CPA in his hometown of Marietta, Ohio when he was asked if he'd consider the advisor role for Epsilon Upsilon Chapter. "It was just an opportunity for me to give back," Ferguson said. He had admired those who advised his chapter and felt getting involved at Marietta was the right thing to do.
For the first few years Ferguson was especially intentional about listening. He wanted to hear what the undergraduates were thinking and what direction they wanted to go. "I worked with the philosophy of, 'This is not Bob's chapter. This is your chapter. I'm here to advise. Yes, you aren't going to have a completely smooth road. You're going to have some bumps in the road,'" said Ferguson.
In teachable moments Ferguson said he often borrows a portion of his employer's mission statement which talks about "failing forward." You fail, but you go forward because you've learned something from that failure. His ability to offer guidance while letting the undergraduate leaders do their job has made a lasting impact on several decades worth of alumni. "I'm all about learning," Ferguson said.
Ferguson is driven by the small-town influence of Marietta, Ohio, a father who was community oriented and a father-in-law who encouraged service to others. "My father-in-law was a director for Lions International and he always said you owe civic rent," said Ferguson. "Civic rent means you have to give back to the community. If all you ever do is take, take, take from the town, your town's not going to have anything left to give anybody. If you pay back by paying your civic rent, you are going to have a better place to live. There have been a lot of people that have gone before you who have given civic rent."
Whether it's watching chapter members provide the manpower for a community event or seeing them interact with his own family, Ferguson continues to be inspired by undergraduates.
He recounts a day when his children were sledding on a hill near the Delt house. "One of the Delt boys walked across the street and saw me and said, 'Hey, Ferg, when your kids get cold, come on over to the house. Bring your sleds over and we'll fix them some hot chocolate.' Little things like that mean a lot. That gives me a lot more incentive to help the young men out because they're doing something in their lives and they're giving back already. My guys in Marietta give so much civic rent."
Ferguson, who also serves a division vice president and is house corporation treasurer for Epsilon Upsilon, has been recognized several times over the years. He was cited to the Distinguished Service Chapter in 2000 and received the Al Sheriff Award for outstanding chapter advisor in 2006.
And so, he was not expecting any additional honors this year when the Northern Division's Chapter Advisor of the Year award was named the Robert G. Ferguson Chapter Advisor of the Year Award. The announcement was made on February 11 at the final banquet of the Northern Division Conference. Ferguson's wife Ginny and his middle son Russell were on hand to surprise him along with a dozen alumni he's advised over the years. Brothers traveled from as far as California and New York to represent the hundreds of brothers who Ferguson advised.
Nick Aylward, (Marietta College, 2008) and Ashley Wollam (Marietta College, 2008) announced the naming of the award. They are but two of the young alumni who Ferguson has mentored.
Aylward was a chapter president who went on to serve as assistant advisor to several chapters, advisor to Zeta Chapter at Case Western Reserve University and now serves as a division vice president. Aylward was recognized at this year's Northern Division Conference with the William J. Fraering Award for young alumni service.
Wollam, who was recognized with the Fraering Award in 2016, has volunteered as an assistant advisor and a colony advisor and is now the chapter advisor for Gamma Xi Chapter at Ferguson's alma mater, the University of Cincinnati.
"You look at the guys that have come out of your chapter and you just kind of grin and smile and say, 'Hopefully those guys make a difference in the lives of others, and if they do then we've done our job as chapter advisors,' that's way I look it," Ferguson said. "If anything pleases me, it's seeing some of the Delts continue their lifelong service to Delta Tau Delta."
In April, Ferguson will celebrate 50 years since his Delta Tau Delta initiation. Through the years, he has listened and learned and he continues inspire others as he pays civic rent.
"It's like my second family. I have a family of four kids and a wife that I dearly love and then I have another family of Delts, an extended family that I dearly love. It's just all about us being a part of another family and trying to do something that does good for everybody. Let's pay some civic rent and do things the way they need to be done. Just believe in what we really say our mission is and if we do that, we're going to be fine."