Academic All-American and Player of the Year
Baker University quarterback Logan Brettell (2018) earned the prestigious 2016 College Division Academic All-American of the Year award, announced in November by the College Sports Information Directors of America. He is the first Baker athlete in history to garner the award. He also became just the sixth athlete to be named an Academic All-American in the history of the Baldwin City, Kan. school. Second Team Defense, defensive lineman Joshua Kock (2016) also earned the prestigious All-America award. He is one of 11 Delta Tau Delta undergraduates who round out the Baker team.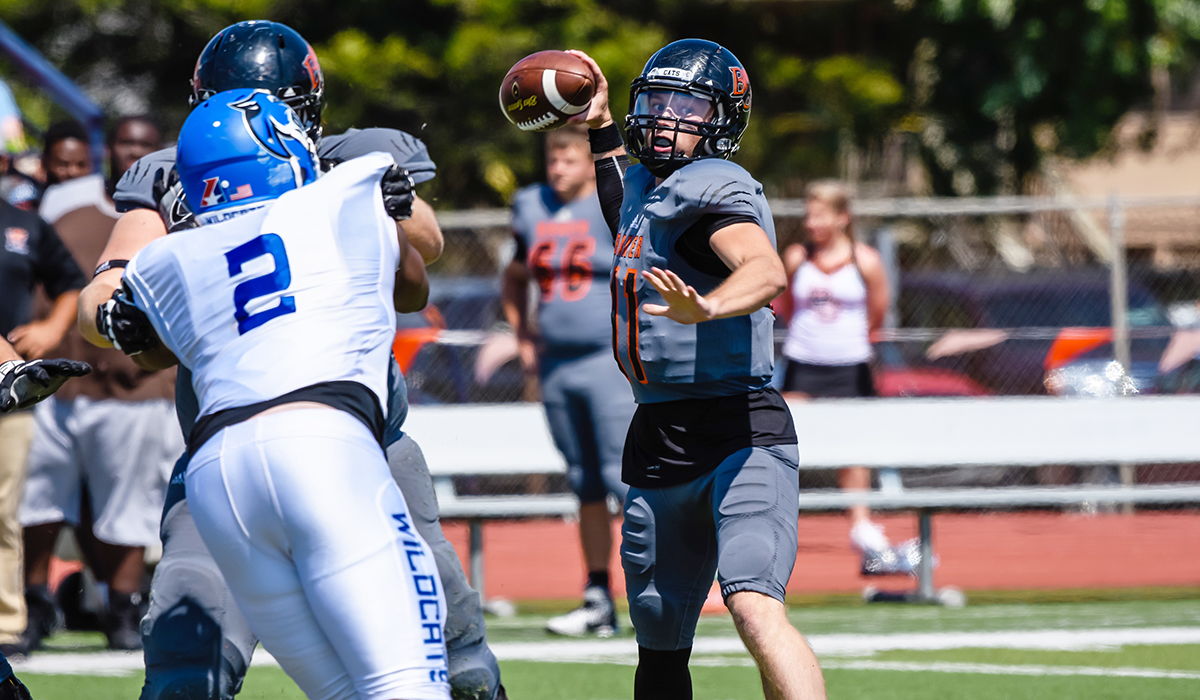 "I think it's a reflection on the university, it's a reflection on our coaches and most importantly and personally to me I think it's a reflection on my parents and the way that they raised me," said Brettell. "From an early age, they stressed a high value on academics as a priority ahead of athletics. That's something that I've always carried with me as a value of my own. Every student-athlete can attest to the fact that balancing school and a sport is extremely difficult and not only to balance but to be successful at both is a huge deal. It's not something I'm not taking for granted at all. I'm beyond honored to receive an award like that."
Brettell was also named the 2016 Heart of America Athletic Conference Southern Division Offensive Player of the Year along with Kock who was named as a 2016 Heart of America Athletic Conference First Team All-Conference award winner. Kock is the two-time defending Heart of America Athletic Conference Southern Division Defensive Player of the Year. Brettell was also one of seven Baker football players named as a 2016 Daktronics-NAIA Scholar-Athletes and he was named the 2016 National Association of Intercollegiate Athletics (NAIA) National Player of the Year on Saturday, Dec. 17.
Ranked No. 2 with a 14-0 record the Baker Wildcats battled No. 4 University of St. Francis from Indiana. Baker lost the NAIA final 38-17, but the season will be remembered for many successes.
The Baker football team has been close to making it to national championship game in recent years but had only done so once before in 1986. "They broke that barrier. We've been knocking on the door for several years," said Gamma Theta Chapter Advisor, Andrew Heim (2015). "To see these guys do that was super special. It was really cool seeing the quarterback on the team was a Delt, the starting left guard was a Delt, the starting left tackle was a Delt, one of the starting defensive lineman and the starting free safety were all Delts. It was cool to see several of our brothers out there leading the team to the best season in Baker history."
An Overland Park, Kan. native Brettell broke numerous Baker records in 2016 including passing yards in a season with 4,810, passing touchdowns in a season with 51 and career passing touchdowns with 62.
He is third all-time in Baker history in passing yards with 6,282 in just 34 games and his 6,909 total offensive yards also ranks third all-time at BU. He also holds Baker records with seven touchdowns in a game, as he reached that feat against Culver-Stockton on Sept. 3. Baker defeated CSC, 89-27, that day and scored a school record 75 points in the first half, the most points scored in a half in Baker history, breaking a 94-year school record. Brettell leads the NAIA in total offense with 5,092 yards and passing yards. He has rushed for 282 yards this season and six touchdowns, his six rushing touchdowns is second on the team behind wide receiver Cornell Brown, who has a school-record 23.
"A lot of the guys who are leaders on the football field make contributions to the chapter as well," said Heim. Brettell is a past recruitment chair and the newly elected vice president for Gamma Theta Chapter. Starting left tackle Damon Gebhardt (2018) was recently reelected as sergeant-at-arms, a position previously held by Kock. The chapter was recognized by the Fraternity with the Court of Honor Award in February 2016.
Photo courtesy of Baker University Sports Information.