A Renewed Focus on Community News
Through many adventures in his career path Sam Houston (Westminster College, 1978) has added the role of newspaper publisher to his journey at the 134-year-old Hood County News in Granbury, Texas.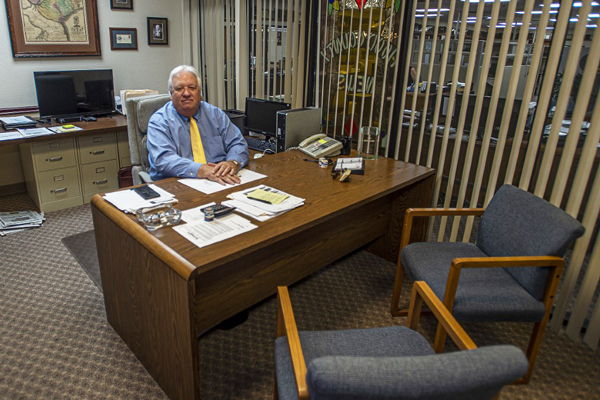 Granbury, a small town rich in unique culture, was named as the best historic small town in America two years in a row by USA Today and residents pride themselves on being part of a welcoming community.
As publisher of the local newspaper, Houston has renewed the focus on community news. "Nobody reads the Hood County News to find out what the Supreme Court of the United States did… they want to know what's going on in their schools, their churches, their communities and with the people who live here," Houston said. "We've got a great history and a great community. People want to hear stories about the people who are here."
Houston says he is more of a Walter Cronkite type of person. "I think we blended entertainment with news, and I think it's much to the loss of the American public. I want to report facts and let the readers decide what their position is based upon facts. We're going to entertain people and tell them some great stories about the people who live here and I think that's a winning formula to get readers and for people to enjoy picking up the paper."
"It's an exciting adventure where people are really charged up and we're making a lot of positive changes," said Houston. "I'm excited to do this for a while and I'm sure that after five or six or 10 years, I hope at 75 there's another adventure."
Houston's desire to tackle new adventures isn't new. He worked for a Fortune 500 company for five years, practiced law as a trial lawyer and became involved in the horse business becoming one of the biggest quarter horse breeders in the world. He served on the board of directors of the National Reining Horse Association. While with the National Reining Horse Association, he started a national television show which was received an award from the Cowboy Hall of Fame in its first year of operation. His foray into the entertainment business includes a production company producing shows and booking entertainers.
He has also embraced his name. As a young man, he was inspired by Hal Holbrook's performance of the legendary one-man show "Mark Twain Tonight!" Houston always thought the story of Sam Houston, the American soldier and politician was much more interesting than Mark Twain. Eventually wrote his own play, a one-man show called "The Lion of Texas" which he has performed all over Texas. He also does speaking engagements as General Sam Houston speaking last year at the 25th-anniversary celebration of the Sam Houston statue in Huntsville, Texas, "A Tribute to Courage" and at the Sam Houston Museum on Independence Day this year.
"I've had different lives. I attribute a lot of that to my education at Westminster—the whole educational experience I had between Delt and Westminster College to seize the moment no one would ever accuse me of not doing that."
In college, Houston was drawn to Delta Tau Delta by his best friend from high school whose brother was the chapter president. "I can honestly say that my times with Delta Omicron Chapter, were some of the happiest days of my life," Houston said.
A few years ago, when traveling to Northern Missouri for his mother's funeral, Houston stopped by the Westminster campus to visit the Delta Omicron Shelter.
"There were some young men there and I tried to explain the significance of the relationships they were making and what effect that would have on the rest of their lives," Houston said. "It's hard not to get emotional about the personal relationships I've formed. I value my fraternity brothers more than they'll ever know," he said, his voice faltering.
One of the best things he recalls learning was chapter tradition called "scrutiny and criticism" where members learned to communicate in the face of conflict
"I wish the world was more that way now because we confronted issues and confronted problems and I thought that was a great lesson," Houston said. "When you stand in front of 65 of your brothers and you're wrong and you know, you're wrong, it is certainly humbling. Humility and respect for each other are among life's great lessons."