A Passion for Research Leads to Infection Prevention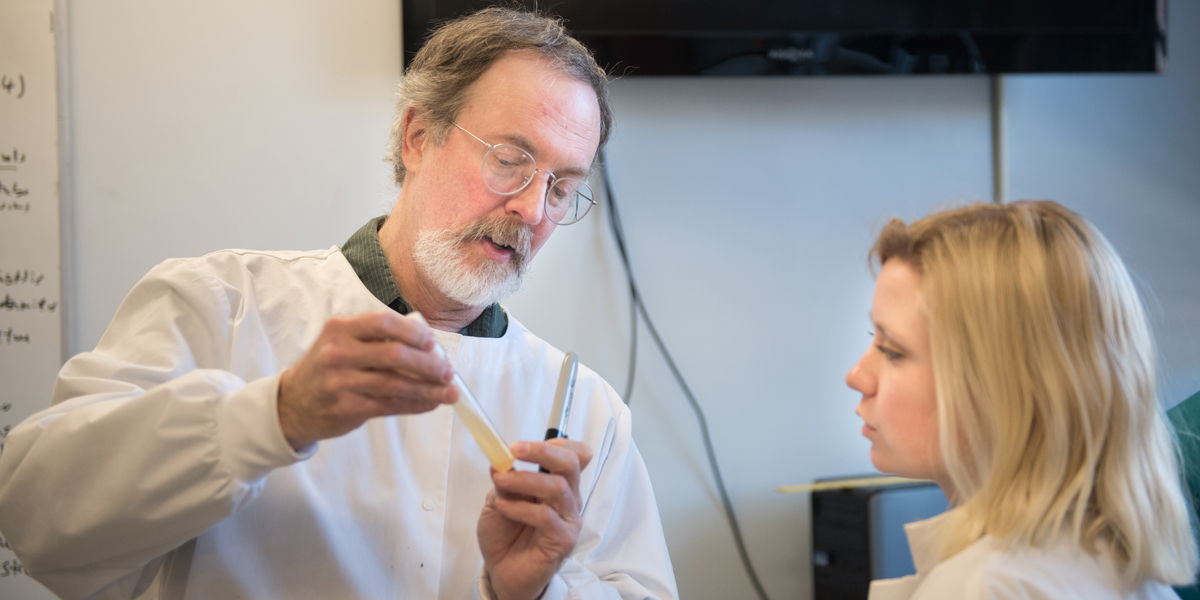 Henry "Rardy" G. Spratt, Jr., Ph.D. (Georgia Institute of Technology, 1977) is a professor of biology, geology and environmental science at the University of Tennessee at Chattanooga and a co-founder of a clinical infectious disease control research group.
His interest in research was influenced by family members who were university biology professors. Spratt had uncles and cousins who were biology professors at universities when he was an undergraduate at Georgia Institute of Technology. "I had observed the kind of research these family members conducted, and I thought I'd give research a chance," Spratt said. Later, while earning his Ph.D. and while working as a graduate teaching assistant at the University of Georgia, Spratt realized, "I also had a great knack at teaching."
Spratt, along with a colleague, are cofounders of the University of Tennessee at Chattanooga (UTC) Clinical Infectious Disease Control (CIDC) research group. The CIDC was formally recognized in 2015. To date, the CIDC has conducted seven studies in local clinics. These studies have been conducted in both inpatient and outpatient clinics. The CIDC has published two studies and are currently preparing two manuscripts on other studies to be published.
The CIDC research group at UTC is currently working on two externally funded projects, in collaboration with physicians at a local hospital (Erlanger Hospital, Chattanooga, Tenn.), and with physicians on the faculty of the University of Tennessee College of Medicine—Chattanooga. "The common theme between these two projects is that both seek to provide physicians involved with better options to reduce potential Healthcare Associated Infections (HAIs)," Spratt said.
One of the projects focuses on working with plastic surgeons who routinely perform breast augmentation or reconstruction surgeries. The CIDC is doing lab studies to test a proposed new antiseptic-based irrigation solution to use during these surgeries. The older irrigation solution that has been in use for at least a decade uses a mixture of antibiotics. "Our preliminary data suggests that the newly proposed antiseptic-based irrigation solution will be much more effective in reducing the potential for HAIs as a result of these surgeries," Spratt said.
The second current study is also in collaboration with physicians at Erlanger and with a company that has recently brought a device to quickly sterilize the soles of shoes via a short burst of UV-C light. "Specifically, we are working with physicians in the pediatrics department focused on the Pediatric Intensive Care Unit (PICU) where the UV-C devices will be installed outside of patient rooms," Spratt said. "This installation will occur over the next couple of weeks. We hope that this study will provide a new mechanism for physicians, nurses and staff to reduce contamination of the floors by periodically sterilizing the soles of their shoes. Hopefully, we will see additional benefits in fewer infections in patients using these rooms."
The CIDC is also in the early stages of developing new studies to be conducted in podiatry clinics and audiology clinics. "In both of these cases, we will first determine a quick 'snapshot' of bacterial contamination in these clinics, looking for hot spots," Spratt said. "After we have assessed the results, the CIDC will then make proposals to reduce the contamination. Such environmental monitoring of clinics has recently gained new importance at the Centers for Disease Control and Prevention (CDC), especially as a mechanism to reduce the incidence of HAIs."
Spratt has been a university professor teaching both biology and microbiology and has continued his research program at two different universities for almost 30 years.
Spratt said that he loves to see the students he teaches at UTC taking part in fraternities and sororities as a part of their undergraduate experiences. "As a Delt, the principle experience from my time as a Fraternity undergraduate member that has carried forward into my current professional life has been loyalty and camaraderie. Members of the CIDC need to be supportive of one another to insure that the data we generate is free from error. We also need to rely on one another to help write proposals to obtain funding to keep our work moving forward. All of this is done in a manner that helps the faculty involved better work with our student undergraduate researchers, and with residents in the hospital who have also been assigned to work with us. So, overall, the loyalty to the group, and the camaraderie that I have always experienced as a brother has carried over to the work I am doing with the CIDC," Spratt said.
In his spare time, Spratt enjoys spending time with his family, gardening, dancing and singing with his wife and helping maintain his family's mid-19th century mountain house near Asheville, N.C.