A Commitment to Leadership and Learning
Soon after he joined the chapter in 2012 Sam Snemis (Indiana University, 2016) felt an obligation to lead the Beta Alpha Chapter in a new direction. He quickly got involved in the chapter by taking a leadership role in his new member class and participated in Ignite the following summer. After becoming chapter president during his sophomore year he also had the opportunity to participate in the President's and Advisors Retreat (PAR) in Indianapolis.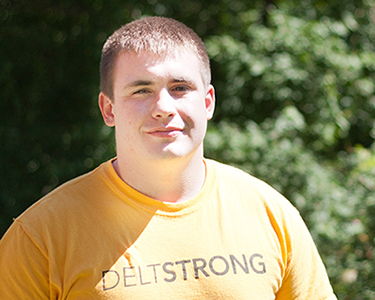 Snemis said the leadership experiences helped him dive deeper into the Fraternity's values. "Going through these experiences put Delt in a new perspective for me and it helped me effectively teach that to our undergraduates," Snemis said

"Even though I was a sophomore I knew the seniors and the other brothers respected and trusted me to do a good job," Snemis said. "I cared a lot about the chapter, so I felt they deserved a leader who was going to give them that same level of passion."
Snemis admired the leaders that came before him and wanted to contribute to the chapters as much as they did. He saw their leadership and the respect they had and the good they were trying to do, but he wanted to do more. Snemis wanted to change their new member education process and revamp the whole structure of the chapter.
"I wanted to show the chapter how the executive board should be run, how our administrative board should be run and the relationship those boards should have within the chapter, Snemis said. "I also wanted to make sure many undergraduates were involved in those positions."
It wasn't always easy for Snemis being a sophomore president as he faced resistance back from upperclassman while trying to change the new member education program to adopt the Fraternity's pilot version of The Road. "A lot of the seniors didn't like this change, so being a sophomore trying to deal with upperclassman was tough when convincing them this was best for the chapter," Snemis said.
Snemis wanted to leave Beta Alpha on the right track with undergraduate members involved in the chapter as much as he was when he first joined.
"I knew for the chapter to get better we needed everyone to be involved and that was something I wanted to leave them with at the end of my term as president."
After his term as chapter president, Snemis sought yet another leadership position and was elected president of Indiana University Interfraternity Council (IFC). As chapter president he had built great relationships with many other chapters on campus and IU's administration, so this was another role he felt he could fill.
"Through my time as president I gained a better understanding of IU's Greek community as a whole," Snemis said. "By caring about the community a lot, I saw the benefit that it provided through brotherhood and sisterhood."
Snemis encourages others to expand their involvement throughout their undergraduate career to increase learning experiences. "To have fun and to learn is the number one piece of advice I can give. If you're not learning, then you're not enjoying yourself," he said.