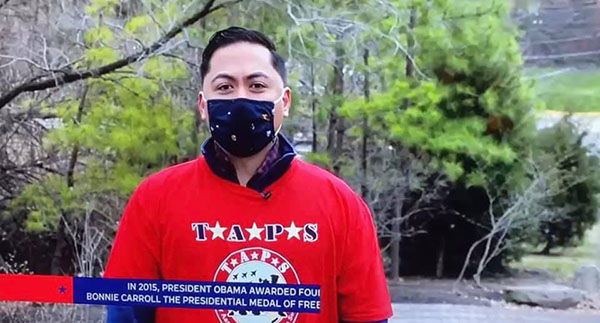 While many tuned in to coverage of President Joe Biden and Vice President Kamala Harris's inauguration on Jan. 20, 2021, a few Delt alumni and undergraduates noticed a familiar face in the virtual Parade Across America.
U.S. Army Major Joe Quenga (Georgia Southern University, 2009) presented a pre-recorded message representing TAPS, the Tragedy Assistance Program for Survivors. The organization provides comfort, care and resources to all those grieving the death of a military loved one. Since 1994, TAPS has provided comfort and hope 24/7 through a national peer support network and connection to grief resources, all at no cost to surviving families and loved ones.
"TAPS has been a part of the past several inauguration parades. This year with the pandemic going on, a lot of the families and TAPS representatives were not able to physically take part in the inauguration parade," Quenga said.
The inauguration committee decided each state would spotlight an organization with an opportunity to share a message of what their organization represents. "I was fortunate to be a part of that video—to congratulate Biden and Harris and also to honor the military's fallen and their families," Quenga said.
Because it was virtual and pre-recorded, this wasn't a typical parade experience. "With all the things surrounding this inauguration and the pandemic and just the craziness of 2020-2021, a lot of the people that were part of the inauguration and Parade Across America never saw the final video or knew if we would even be in it," said Quenga. "I was just going about my day on inauguration day after they got sworn into office. It wasn't until later in the afternoon that I started to get text messages and people asked, 'I think I saw you, was that you?'"
Stationed at the Pentagon, Quenga is a Force Management Officer. He is also a graduate student in the Schar School of Policy and Government at George Mason University.
Since 2016 Quenga has been a mentor and volunteer with TAPS, inspired by the late Master Sgt. Pablo Ruiz III, with whom he forged a strong working and personal relationship in the Army. From 2013 until his tragic death in May 2015 while serving in Afghanistan, Pablo volunteered with TAPS.
Before Pablo left for his final deployment, he made it clear that should he not make it home, donations were to be made to TAPS in place of flowers for his funeral. He wanted others to volunteer with TAPS as well. He also wanted to have TAPS represented at his funeral. As Pablo's brother-in-arms, Quenga made sure his friend's final wishes were granted. Upon meeting Quenga, TAPS President and Founder Bonnie Carroll invited him to participate as a TAPS family member. Quenga pledged to step into the position left by Pablo and answer the call to serve. Quenga developed an ambitious plan–to honor Pablo's legacy through volunteering for "every single event" with TAPS that Pablo did, all within a year.1
"Service to the country isn't just in uniform," Quenga said. "Whatever cause you believe in, voice that message to the public to make a better community and a better country and a better place for your Delt brothers no matter where you find yourself."
Quenga initially joined Delt during the recolonization of the Epsilon Omega Chapter. Currently, he serves as an advisor for the Gamma Eta Chapter at George Washington University, which he says has turned out to be a great experience. Inspired by those who came before them, Quenga also takes pride in seeing several chapter brothers serve the Fraternity in volunteer positions. "I wanted to become an advisor because I vividly remember the example of the alumni I met as an undergraduate," Quenga said.