80-year-old Marathon Runner Bolstered by Lifelong Support of Brothers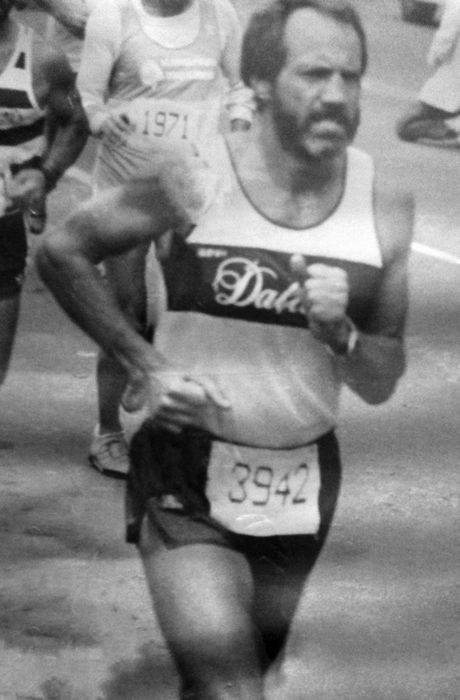 James "Strude" Thruston (Texas Tech University, 1959) began running before the invention of mass-produced running shoes. During high school in the 1950s, Thruston ran simply to get in shape. He measured a hundred-yard strip in a cotton field near his Texas home and timed himself with an analog watch.
He didn't run his first marathon until 1980 at age 43 and his second was the New York City Marathon at age 44, which was his fastest time at 2 hours and 58 minutes. Today at 80, he is training for the Dallas Marathon in December, with an eye toward the Boston Marathon in April 2018.
Thruston came from humble beginnings in small town Texas. His father worked as a farmer, and his mother was a school teacher. His first exposure to running came from his cousins. He spent summers with his aunt, uncle, and cousins, where he would watch his oldest cousin run as fast as he could over two miles every day.
Thruston followed in the footsteps of his mother and older sisters starting the next chapter of his life at Texas Tech University.
During his second year at Texas Tech, he met Charles "Chun" Gafford (Texas Tech University, 1959) in a history class. Through Gafford, Thruston learned the dean of student life was bringing a new fraternity chapter to the school.
On Dec. 7, 1957, the Fraternity installed the Epsilon Delta Chapter at Texas Tech, with both Thruston and Gafford as founding members.
"Being a Delt was the beginning of my boost in self-confidence that had a lasting impact on my life," Thruston said.
Through 13 years of college mixed with work, active duty in United States Army, marriage and family, Thruston graduated in 1968 and moved to Dallas for a job with Texas Instruments (TI).
In his later years at TI, he started to jog daily. A fellow engineer invited him to run in a TI running club five-mile St. Patrick's Day race. Thruston finished last in that race. He increased his training and came back the next year to win the most improved runner trophy.
After that first race, Thruston began volunteering at races and then directed a few. He was elected president of the TI running club when there were only 25 members. During his year as president, he recruited more than 200 new members.
Thruston had also joined the Cross Country Club of Dallas, now called the Dallas Running Club, where he served as the president for four years.
After 10 years at TI, Thruston resigned and started The Jogger, a running specialty shop. During this time, Thruston competed in many races from 5ks to marathons.
He ran in the New York City Marathon, Houston Marathon, Austin Marathon, Long Beach Marathon, Grandma's Marathon, and his last one in 1997, the San Francisco Marathon at age 60. He ran distances from 5k, 4 miles, 5 miles, 10k, 8 miles, 15k, 20k, half marathon, and 20 miles.
He was also a race director for three years for the Dallas White Rock Marathon. In 1989, Thruston closed The Jogger to become a full-time race director and started his own company called Thruston Racing.
"I built a computerized mailing list of over 100 thousand competitive and recreational runners," Thruston said.
He learned a new computer language to develop a system for logging registration, timing and race results.
"After being inducted into the Dallas Running Club Hall of Fame in 2014 at age 77, I announced at the presentation that I was going to qualify for the Boston Marathon when I turn 80," Thruston said.
In early 2014, Thruston reconnected with chapter brothers, Tom "Arnie" Arnold (Texas Tech University, 1965) and Jerry "Snuffy" Smith (Texas Tech University, 1965). Their reunion gave him a chance to see old friends and helped to establish the life long support of the brotherhood.
"In Dec. 2014 when I was inducted into the Dallas Running Clun Hall of Fame, Arnie and Snuffy were there to support me." Thruston said.
Smith had since acquired ranch land overlooking the Brazos River about two miles west of Dallas. Since 2014 he has hosted an annual four-day reunion for two dozen Delt brothers from Texas Tech, Thruston being the oldest.
"The older you get, the more you appreciate what you had back then and what you still have with those brothers," said brother George Chaffee (Texas Tech University, 1966). "It's not a sprint, it's not a short dash and you're done. It's something that spans over most of your life."
The confidence that Thruston gained from his brothers in college did not fade through the years.
"My self-confidence continues to be boosted by their respect to me and their continuing encouragement of my running," Thruston said.