29 Members Inducted at University of Pittsburgh
The Fraternity welcomes 29 men inducted into the Fraternity as new members of the Gamma Sigma Crescent Colony at the University of Pittsburgh. The men of Zeta Mu Chapter at Robert Morris inducted these campus leaders during a ceremony performed on February 22, 2019 in David Lawrence Hall.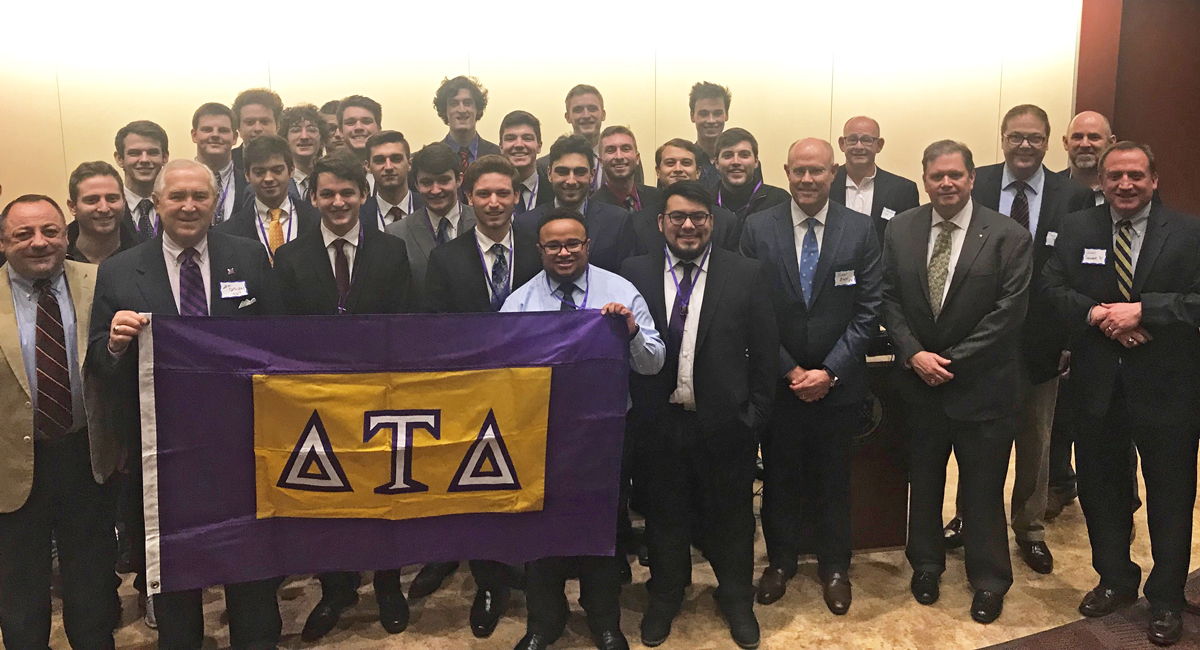 More than a dozen alumni in attendance at the colonization included Former International President Jim Garboden (University of Pittsburgh, 1988), John Sheerer (University of Pittsburgh, 1991), John Bush (University of Pittsburgh, 1984) and Colony Advisor Greg Lucsko (John Carroll University, 2008).
"The absence of Gamma Sigma has left a noticeable gap within Delta Tau Delta. I am excited to return to Pitt and envision a strong future for our newest Delts," said Chief Executive Officer Jack Kreman.

A team of three Central Office staff members consisting of Senior Leadership Consultants Vince Russo (Robert Morris University, 2017) and Ben Grothe (University of Iowa, 2017) and Chapter Leadership Consultant Cody Nulph (University of South Florida, 2018) arrived on campus in January to begin marketing the Fraternity, soliciting referrals and interviewing potential new members.
"The past month at the University of Pittsburgh was immensely rewarding. To come away with 29 talented and driven young men after the amount of work our team, staff and volunteers poured into the process is so incredibly gratifying. I foresee a bright future for these men as they learn and grow as a colony of men pursuing a life of excellence," said Russo.
Fraternity staff also recruited a volunteer advisory team led by Colony Advisor Greg Lucsko to assist the new Delt members as they pursue a charter. Lucsko works with a team of four assistant advisors. Director of Growth Adam Abbott (Morehead State University, 2017) and Director of Volunteer Recruitment Bentley Anderson (University of Southern Mississippi, 2009) were also on hand for the colony induction.
An alumni reception preceding the installation brought together more than 60 men allowing Founding Fathers of the Gamma Sigma Crescent Colony to meet alumni from Delt Chapters at the University of Pittsburgh, Carnegie Mellon University, Robert Morris University, Vanderbilt University, Washington & Jefferson College and Bowling Green State University.
Originally chartered in 1864, the Gamma Sigma Chapter boasts more than 2,000 men have who joined the Fraternity at the University of Pittsburgh. With a 3.3 cumulative grade point average, the Crescent Colony is poised to become an academic leader on campus where they join 18 other members of the Interfraternity Council.