25 Members Inducted at University of Connecticut
The Fraternity welcomes a new colony of 25 men inducted into the Fraternity as new members of the University of Connecticut Crescent Colony.
These campus leaders were inducted during a ceremony performed by the men of Iota Mu Chapter at Quinnipiac University on October 6, 2017.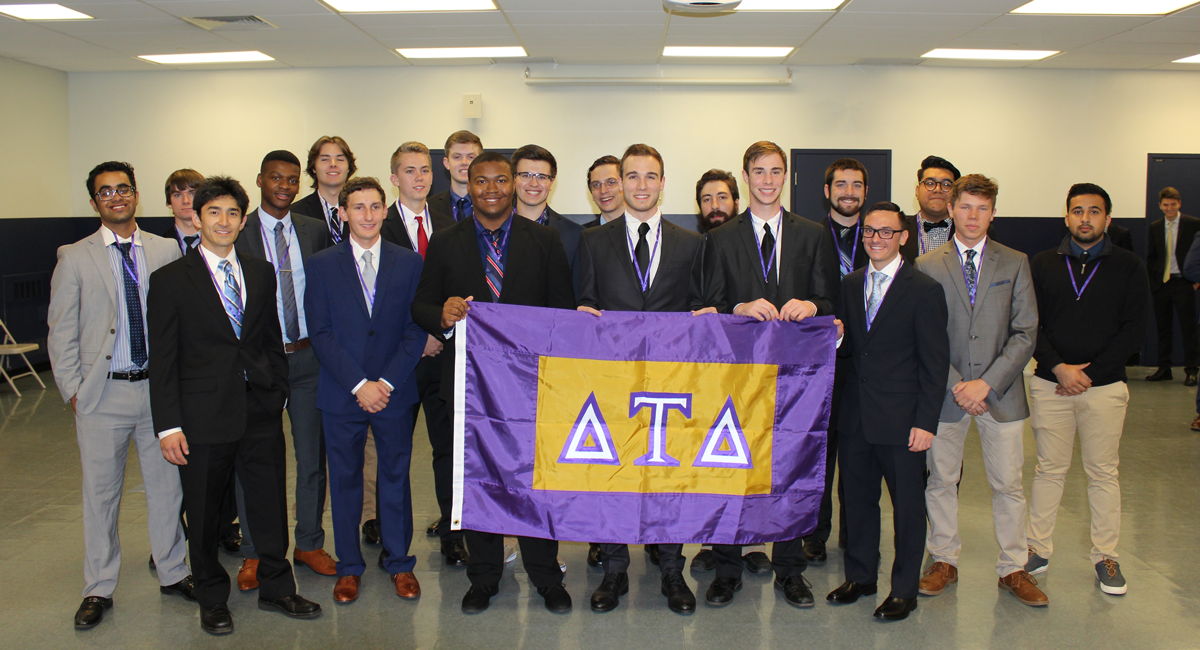 A team of four Central Office staff members consisting of Anthony Sansone (University of Iowa, 2016), Jacob Cantu (University of Oregon, 2017), Nick Yarbrough (Baker University, 2017) and Ben Grothe (University of Iowa, 2017) arrived on campus in September. They began marketing the Fraternity, soliciting referrals and interviewing potential new members. The expansion team collected more than 900 referrals from the campus community, interviewed nearly 170 men to select the founding father class of the University of Connecticut Crescent Colony.

"Starting a new Fraternity on a campus is never a simple task. Our consultants put in countless hours of work to ensure this colony gets off on the right foot," said Brenden Welch, director of growth. "We found quality men whose values mirror those of Delta Tau Delta."
Fraternity staff also recruited a volunteer advisory team to assist the new Delt new members as they pursue a charter. Leading the team is former chapter consultant Mark Lipnickey (Vanderbilt 2016). Additional volunteers are still needed, so anyone living in the area with interest should contact Director of Volunteer Recruitment Bentley Anderson at bentley.anderson@delts.org.
"The Fraternity is fortunate to have found men who truly embody the values of Delta Tau Delta. The passion with which these founding fathers approach their Delt journey is a rare and powerful force that will propel them to carry out the mission of the Fraternity. These men will not only leave a lasting legacy on Delta Tau Delta and the University of Connecticut, but their fraternal experience will impact their lives for years to come," said Grothe.

The colony is already poised to become a leader on campus boasting a 3.46 cumulative grade point average.

"These are men who get it. They get the purpose, they get the mission, and they are dedicated. They are excited to see the positive change they can bring to campus," Sansone.
The University of Connecticut is one of the top public research universities in the nation, with more than 30,000 students pursuing answers to critical questions in labs, lecture halls, and the community. The University of Connecticut is home to 39 Greek organizations. Delta Tau Delta is the newest of 13 Interfraternity Council organizations.
Founded in 1858 at Bethany College, in Bethany, W.Va., Delta Tau Delta has 138 chapters and colonies in 39 states and the District of Columbia with a membership of more than 9,000 undergraduates and 120,000 living alumni. The Fraternity posts a GPA of 3.1, making it one of the highest achieving men's fraternities academically.