21 Outstanding Road Program Ideas
21 Outstanding Road Program Ideas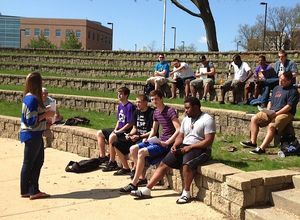 EMU RoadThroughout the past week, I have received almost 70 Road plans from chapters. It has been very exciting and interesting to see the plans and the hard work you have put into The Road. Delta Tau Delta is different than other fraternal organizations and encourages chapters to develop their own programs based on the chapter's personality, interests and local resources. This philosophy allows chapters to be very creative.
As I was reading, I thought I cannot wait to share these outstanding programs. Overwhelmingly, the number one resources Road chairmen requested in the plan was more ideas. Here is a list of some of my favorite program ideas:
B.Y.O.M. (Bring Your Own Meat): A lesson in grilling – Chapman University

Golf Tutorial – University of Delaware

Leadership and the Rite of Iris – University of Georgia

Art of Manliness' "30 Days to a Better Man" – Illinois Institute of Technology

Etiquette Dinner with Alpha Phi (facilitated by the faculty advisor) – Butler University

CPR Training and Emergency Preparedness – Baker University

Myers-Briggs Survey and Discussion – University of Oregon

Dealing with Depression – Rensselaer Polytechnic Institute

Self-Defense/Avoiding Dangerous Situations – University of South Carolina

Identity Theft – University of Tampa

"The Locker Room Talk:" A lesson in men's health – Texas Christian University

Yoga Lessons with a Sorority – University of Santa Barbara

Political Debate Facilitated by Two Members – UCLA

Price is Right: Extreme Couponing – Chapman University

Marketing Yourself Electronically – Oklahoma State University

Successfully Running a Small Business – University of Michigan

Speed Dating: Practicing your "30 Second Elevator Pitch" – Illinois Institute of Technology

High Ropes Course – Georgia Tech

Securing an Internship and Turning it into a Career – Kansas State University

Dress for Success Program at J. Crew – Eastern Michigan University

Car Maintenance 101 – University of Maine, University of Missouri and MIT

Chapters are doing some amazing programming with The Road. Based on what I have seen and read, here are some suggestions for implementing a successful program:
Ask the members what they want to learn more about. You can take it a step further and have members set short-term and long-term goals and then ask them what they want to learn more about. It helps members put into perspective skills they are not being taught in the classroom.

Organize fun, interactive and relevant programs. The list above has some great examples of going beyond a lecture during a chapter meeting.

The Road chairman should NOT be the presenter for every program. Utilize members, parents, alumni and community members who are experts on a topic.

Do not wait until you have solved all the challenges in your chapter. A chapter began organizing some outstanding Road programs last fall. They started the fall semester with 15 members and this spring have 34. The Road can have an impact on the members, as well as the chapter as a whole.

If your chapter is struggling to get started with The Road, contact me at ellen.shertzer@delts.org. There are several resources online at www.delts.org that can also help you get started or take your program to the next level.