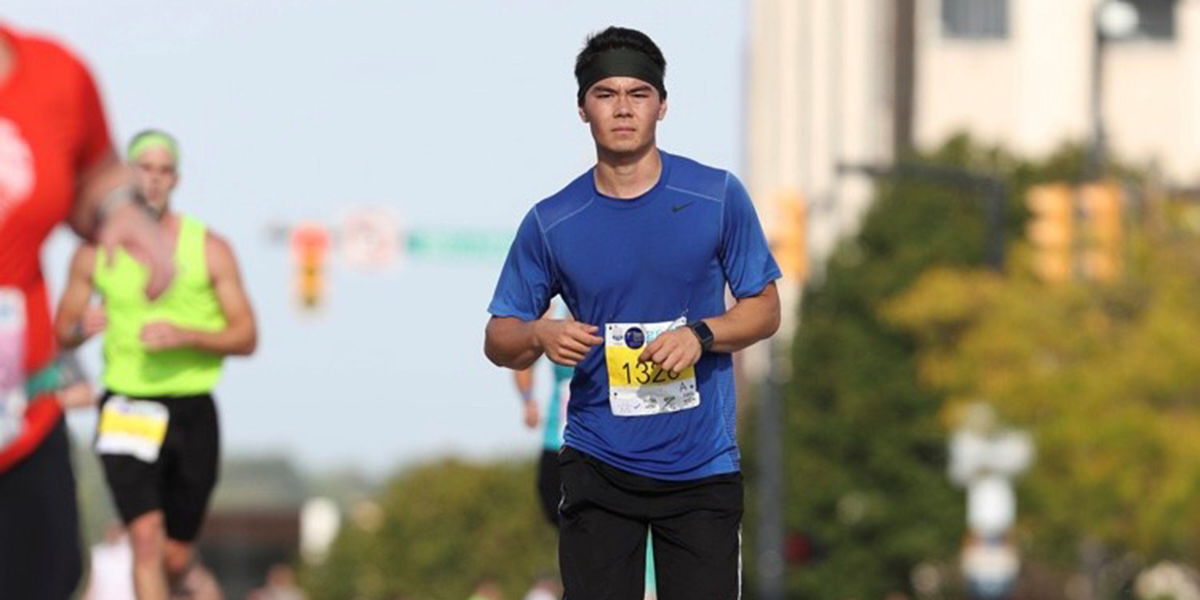 With only 21 days to train, Thomas Ciardi (Case Western Reserve University, 2021) decided to run the FirstEnergy Akron Marathon at the end of September. He'd floated the idea of running a marathon last spring but didn't commit until he returned to school in the fall.
Ciardi wasn't sure if it was possible to train in 21 days but decided to challenge himself. "I just took it day by day, with a rough training plan and certain miles I wanted to hit. I like to see where my limits are—this wasn't about the marathon or the miles, but more of my physical and mental limits."
He'd played sports over the summer and grew up playing tennis plus spent a year running cross country, but this was a different type of athletic challenge. His chapter brothers regularly asked about his training which added motivation, but for the most part, his training was solo. A key factor was learning running technique. As he questioned his efficiency, he sought out informational YouTube videos and applied what he learned to improve his technique.
By race day, he felt ready in some ways, but his legs weren't recovering fast enough so his longest run had been 16 miles. "I knew there was a big hurdle between me and the race day—a lot of it was just trusting myself and counting on adrenaline and the energy of everyone at the race," said Ciardi.
At the race in Akron, Ciardi found an upbeat and supportive environment. "I had never done anything like this before and it's something I quickly realized was an enjoyable experience. Well, the first part was a very enjoyable experience because people are lined down the streets, cheering. People are handing out water. There is music. There is energy. The first leg of the race felt good."
Things took a turn after mile 16 when he started to cramp. "That's where the race became tough. I knew I was going to finish it. It was not an option to not finish it, but I experienced a lot of cramping. First the quad, then the calf or my forearm," Ciardi said.
He knows this was a result of not training enough and not hydrating properly, leading up to the race. "I should have trained months in advance, but 16 miles was the point I had done my longest training run, so my body wasn't used to anything past that point," he said. For the last nine miles, he ran as long as he could, then tried to walk off a cramp and get back to running. He focused on running the last 0.2 miles only to find out the distance mapped on his watch was inaccurate and he had another 0.2 to go.
The marathon finish line is inside the stadium for the Akron RubberDucks, the double-A minor league affiliate of the Cleveland Indians baseball team. Ciardi crossed the finish line in less than 4.5 hours, proving to himself he can commit to and complete a marathon goal, though he is now committed to beginning proper training earlier with a focus on nutrition and hydration.
"It was just one of the most like raw, but very memorable experiences I've had. There's just a huge sense of pride and accomplishment," Ciardi said.
Focusing on personal goals is not new to Ciardi. His interest in growth influenced his decision to join Delta Tau Delta. He never planned to join a Fraternity and initially just checked out recruitment for free food, but he quickly became interested in Delta Tau Delta. Throughout recruitment, Ciardi was impressed with chapter members asking meaningful questions. "They forced me to think about myself, how I want to grow, where I want to go in life and how I've changed over the years," Ciardi said. "As someone interested in growth and being self-aware, I found a circle of people who were challenging me to think and learn about myself. They instilled the idea of development and growth and I wanted to be a part of it."