2022-2023 Order of Omega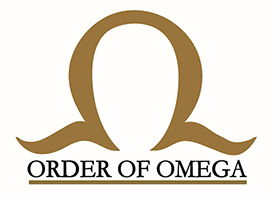 Delta Tau Delta congratulates its 56 members initiated into Order of Omega at their respective campuses during the 2022-2023 academic year. Order of Omega is the premier honor organization for fraternity/sorority leaders. Founded in 1959 at the University of Miami in Florida, Order of Omega has expanded internationally and now boasts 580+ chapters at campuses in the United States and Canada. Since 1959, Order of Omega has initiated more than 280,000 outstanding fraternity/sorority leaders. The Order of Omega undergraduate scholarship program, started in 1985, has eclipsed the $1.5 million mark.
This list includes Delta Tau Delta members from campuses with Order of Omega chapters who completed their reporting by July 25, 2023. Additional names will be added once they are reported.
Alex Kuscsik (Bradley University)
Benjamin Wilson (Case Western Reserve University)
Ram Nallappan (Case Western Reserve University)
Jackson Van Horn (College of Charleston)
Brian Ager (College of Charleston)
Joshua Adomina (Cornell University)
Laurence Koodin (Cornell University)
Quest McQuilkin (Cornell University)
Logan Roeling (Cornell University)
Evan Dershowitz (Emory University)
Steven Polaski (Grand Valley State University)
Ben Marburger (Iowa State University)
Donta Selden (Keene State College)
James Ronning (Keene State College)
Brennan Slick-Robinson (Kettering University)
Colin Mazzola (Kettering University)
Austin Gatlin (Kettering University)
Kevin Lawrence (Kettering University)
Sam Stevens (North Dakota State University)
Dawson Manning (Oklahoma State University)
Jonathan Suhayda (Robert Morris University)
AJ Manges (Robert Morris University)
Dylan Dunlevy (Robert Morris University)
David Hyden (Sam Houston State University)
Ryan Grennier (Sam Houston State University)
Dominic Marino (Southeastern Louisiana University)
Brady Deese (Stephen F. Austin State University)
Sean Morris (Texas A & M University, College Station)
Stefan Gradinaru (Texas A & M University, Commerce)
Henry Dyson (Texas Christian University)
Jake Garza (The College of New Jersey)
Owen Soler (The College of New Jersey)
Kent Hairston (The College of New Jersey)
Joseph Boyle (University of Alabama)
Jack Foley (University of Alabama)
Zachary Grill (University of Alabama)
Charles Kirkland III (University of Alabama)
Nicholas Straus (University of Alabama)
Pablo Malaver-Reyes (University of Georgia)
Ryan Nagel (University of Iowa)
Drake Smith (University of Iowa)
Seth Yarnell (University of Nebraska at Kearney)
Connor Gutz (University of Nebraska at Kearney)
Cody Swinarski (University of Nebraska at Kearney)
Samuel Thede (University of Nebraska at Kearney)
Michael Schilken (University of Nebraska-Lincoln)
Jacob Amen (University of Nebraska-Lincoln)
Andrew Coskey (University of Oregon)
Daniel Saftner (University of South Carolina)
Brandon Derr (University of Southern Mississippi)
Jacob Gardner (University of Southern Mississippi)
Greyson Swartzfager (University of Southern Mississippi)
Andrew Welch (University of Southern Mississippi)
Blake Garrels (University of Wisconsin, Eau Claire)
Jamison Bruhn (University of Wisconsin, Eau Claire)
Nathan Creamer (Western Kentucky University)