2019 Football Highlights
University of Kentucky kicker Matt Ruffolo scored 23 points and had a season-best 50-yarder versus Arkansas. University of San Diego linebacker Kyle Bilchik played in 10 games and posted 33 tackles.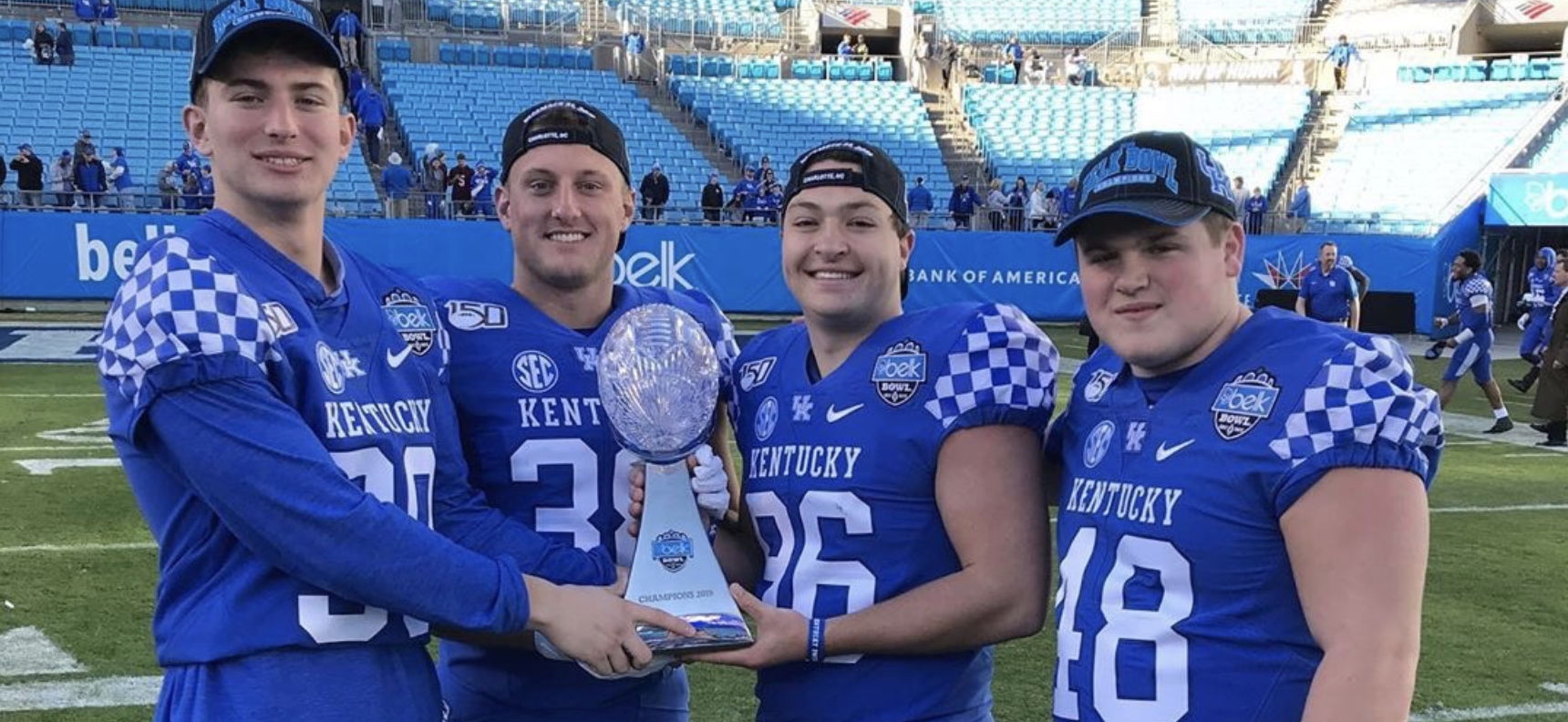 Playing in the National Football League again were Cincinnati Bengals kicker Randy Bullock, Texas A&M, who scored 96 points, and Carolina Panthers offensive guard Greg Van Roten, University of Pennsylvania, who was previously in the Canadian Football League and with the Green Bay Packers.
Baker University, with 13 Delt players, posted a 9-3 record and played in the first round of the NAIA champion series. Offensive lineman Jared Harvey was named to the NAIA first team and receiver Sam
Hukabee had 12 TD receptions and was on the NAIA second team. Receiver Marcus Johnson had 59 catches for 652 yards on the way to honorable mention honors. Defensive end Jon Scire was on the Heart of America first-team and posted 5.5 sacks and 34 tackles. Nate Pauley was a key wide receiver for Baker University.
The 6-4 DePauw University squad featured 23 Delts and were led by quarterback Chase Andries who was NCAC offensive player of the week in the Monon Bell game. He had 125 completions for 1,424 yards and 12 TDs.
Leaders on offense were Ethan Hudson (32 catches for 458 yards) and Noah Jones (352 yards, 17 catches). Key defenders were All-NCAC 2nd team linebacker Dylan Hyatt (44 tackles), Nathan Seifert (71 stops) and Charlie Gruner (44 tackles), back Evens Cribbs (44 tackles) Jake Labus (56 stops) and Josh Coons (36 stops). The All-NCAC second team punter for DePauw was Ty Johnson (44 for 1,672 yards).
Linebacker Lucas Cooper of the Ohio Wesleyan 7-3 team was an All-North Coast Athletic Conference second-teamer with 86 tackles. Teammate Gabe Miller his league in punt and kickoff returns.
Nine Delts saw action for the Kenyon squad during the fall of 2019. Wide receiver Andris Balodis was the top offensive star with 49 receptions for 505 yards and Mamadou Fofana was a kicker. Leading the defense was linebacker Sam Dickey who made 86 tackles including 13 versus Wittenberg. Other defensive standouts were lineman Trevor Brown (53 tackles), back Bobby Strunk (40 tackles), lineman Samuel Becker (24 stops), back Nial Regan, lineman Adam Pollock and lineman Mike Devine. Other Delt players seeing action included Carson Adams and Noah Budenaers of Mount St. Joseph; Kyle Stroh, Nick Costin and Drew Buttrum of Wabash; back Rayshawn Robinson of Albion and Lawrence teammates Jordan Jenkins Salvatore Levi and lineman Will Tews.