2017-2018 Football Highlights
For the second straight year, John Lynch (Stanford University, 1993) was one of 15 finalists for election to the Pro Football Hall of Fame. The 15-year safety for the Tampa Bay Buccaneers and Denver Broncos joined the Fox network as a TV game analyst for several seasons before becoming the general manager of the San Francisco 49ers in 2007. Our other high level NFL executive is John Elway (Stanford University, 1983) who continues as general manager and executive vice president of the Denver Broncos.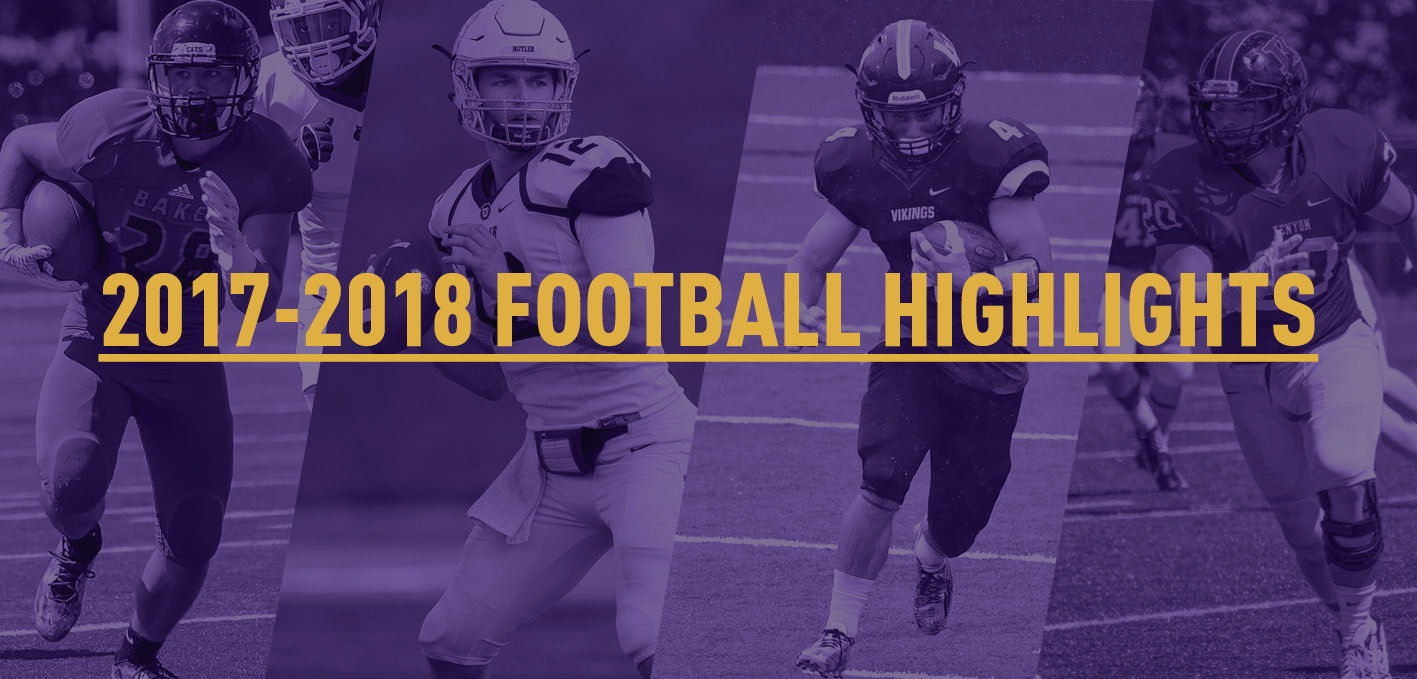 Kicker Randy Bullock (Texas A&M University, 2012) had a good second season with the Cincinnati Bengals. In 15 games, he booted 18 field goals in 20 attempts with a 51-yarder as his best. He also kicked 31 extra points in 33 attempts and averaged 63.2 yards on 65 kickoffs. After playing in 112 straight NFL games, deep snapper Tanner Purdum (Baker University, 2007) was released by the New York Jets before the start of the 2017 season.

Offensive guard and center Greg Van Roten (University of Pennsylvania, 2012) played in 10 games for the Carolina Panthers in 2017 after playing in three games with the team in 2016. Earlier in his pro career, Van Roten was with the Green Bay Packers for seven games in 2012 and three games in 2013. He then played 32 games with the Canadian Football League's Toronto Argonauts in the 2015-2016 seasons and won All-CFL honors.
Our top collegiate player during the 2017 season was Butler University quarterback Will Marty, who was named to the Academic All-Pioneer Football League second team. He completed 198 passes in 338 attempts for 2,198 yards and 7 touchdowns. Marty hit 21 of 30 passes for 313 yards, three touchdowns against Franklin and hit 32 of 48 passes for 239 yards, three touchdowns versus Taylor. Leading the Butler squad to a 6-5 was head coach Jeff Voris (DePauw University, 1990) in his 12th season.
Baker University, with 23 Delts on the squad, posted a 10-2 season in the NAIA. Defensive lineman Josh Kock was named to the AFCA-NAIA All-American first team. He was fourth on the team with 59 tackles, including 15 for losses, and ended his career with 29 career sacks. Koch was also the Heart South Conference Defensive Player of the Year for the third time. Linebacker Kegan Schumann was an All-Heart of America first team linebacker and made 80 tackles. Quarterback Logan Brettell played nine games and won two NAIA Scholar-Athlete Awards. He hit 157 of 256 for 2,550 yards and 24 touchdowns. Nate Pauly rushed for 219 yards and caught 19 passes for 218 yards. Other Baker defensive standouts were back Hayden Jenkins (26 tackles), linebacker Ryan Workman (25 stops) and back Clay Drouillard (three interceptions, 23 tackles).
The 8-2 DePauw squad featured 31 Delt players, led by All-NCAC first team offensive tackle Jeremy Trudell. Quarterback Matt Labus was NCAC Offensive Player of the Week versus Wooster after throwing for 303 yards and 5 TDs. For the season, he hit 76 of 115 for 1,163 yards and 14 TDs. QB Jake Lasky rushed for 491 yards and threw for 1.050 yards and 14 TDs. Other DePauw offensive stars were All-NCAC second team offensive guard Thomas Cunningham, receiver Jake Hagan (39 catches for 386 yards, 6 TDs); receiver Nolan Ayres (22 catches for 417 yards, 3 TDs); receiver Ben Wilson (9 catches for 184 yards) and running back Jake Weber (154 yards).
Other DePauw players on defense were All-NCAC second team linebacker Chandler Nicholson (51 tackles); All-NCAC second team defensive back Rocky Leffler (31 stops)l; All-NCAC second team end Nate Orrison (20 tackles, 7.5 sacks); All-NCAC honorable mention linebacker Zach Williams (45 stops); All-NCAC honorable mention end Matt Mitsch (19 tackles); back Brooks Hepp (42 tackles) and linebacker Collin Cassady (17 stops).
Wabash posted an 8-2 record as quarterback Weston Murphy completed 117 of 223 for 1,330 yards and eight touchdowns. Center Kyle McAtee had 10 starts and was an All-NCAC honorable mention choice. Running back Bobby Blum ran for 171 yards, three touchdowns and linebacker Lucas Bucina posted 21 tackles. Key players for Lawrence were linebacker Jacob Lueck (45 stops), receiver/back Trevor Spina, quarterback/kicker Ryan Butterfield, and receiver Cole Erickson.
Four defensive players saw action for Kenyon. Linebacker Sam Dickey was a starter and posted 55 tackles. Also seeing action were lineman Trevor Brown (16 tackles), lineman Sam Becker (10 games) and back Andris Balodis. Linebacker Dylan Handlin posted 11 tackles for Quincy. Players on the Westminster squad included defensive end D. J. Gerhart, center Colton Headrick, and offensive lineman Sam Poole.
Brian Mayper, (Sam Houston State University, 1993) was hired as head football coach at East Texas Baptist University in February. Previously he had a three year record of 26-6 as head coach at Navarro College. He was hired as head coach of the Belgrade Wolves in the Central European Football League. He had a 12-3 record as European Championship runner up with Belgrade in the 2016 season. After that season, he returned to the States and was passing game coordinator at Brennan High School in Texas in 2017.