The Sky's the Limit for Rian Mehta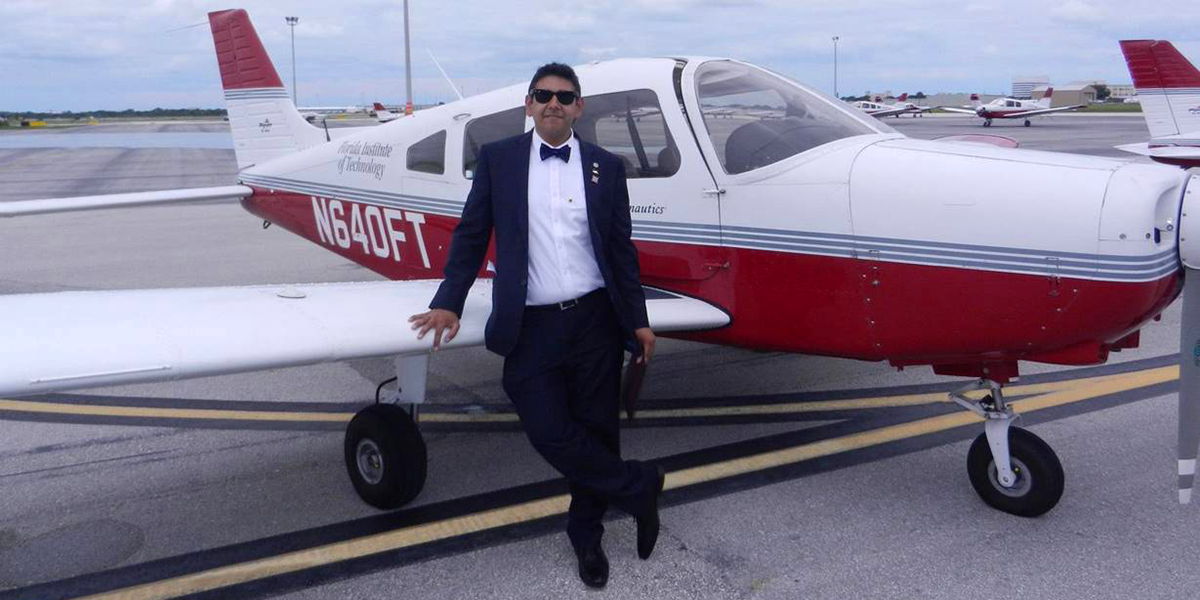 Growing up, Rian Mehta (Florida Institute of Technology, 2013) knew that when it came to what he could achieve, the sky was the limit. So, he reached the sky. Literally.
He traveled from India to the United States to pursue his passion for aviation. At 17, he was dropped off at Florida Institute of Technology to begin the next phase of his life. In a new school, in a new country, for Mehta, it was a new reality. "My mom stayed for two weeks, but I had to grow up really quick," he said. "For the first time in my life, I was responsible for things I had never been before, like finances and laundry."
As he immersed himself into this new life and the American culture, he knew he would join a fraternity, and Delta Tau Delta rose to the top. Not only did he find values that matched his own, he saw an opportunity to go beyond just joining a fraternity. As a brand new chapter on campus, he was excited to be a founding member who could set the tone and make an impact in the early development stage.
Mehta's commitment to excellence and passion for leadership are a testament to his status as a Delt and his ability to work together to accomplish a goal. Likewise, they are a driving force behind his career success at a very young age where his academic and professional accomplishments in the field of aviation have set him apart.
As a PhD candidate at the age of 24, Rian has authored more than 50 scholarly studies on aviation safety. In addition to safety, he has focused on the human factors such as cockpit design and consumer perceptions. In 2014, he became faculty at Florida Tech, teaching aviation career planning, human factors and graduate level courses in security.
Mehta is a young man on top of his game. He is respected in his field, a leader amongst his peers, and was recently honored with Delta Tau Delta's Eaton Award for Accomplishment by Young Alumni. He makes it look easy. But he is also a man who has faced self-esteem issues, challenged by depression in the midst of his rise as a young professional. "Through my undergraduate years, I was a very happy person and coming here was easy," he said. "But moving into graduate school, all my friends had left. Becoming a teaching assistant at the university, I was limited in how I could interact with students. It was very lonely and I went through severe bouts of depression. I felt I had to prove to the world that I was worthy of respect and accolades. I had a very dark phase."
"If I can share my story and help others who are struggling, I want to be involved in that." As an advisor and mentor, Mehta recognizes the importance of giving back to the organization that gave him a home away from home. Today, he looks forward to a bright future, open to see where his journey takes him.
From a college student facing life on his own to a successful academic gaining notoriety in his field, Rian Mehta is a role model for up-and-coming Delts. He is guiding a new generation through their collegiate experience, and he is transforming the world of aviation.